McCarthy Faces Most Important Week Since Becoming Speaker As Debt Battle Looms
April 24, 2023 | Tags: ZEROHEDGE
McCarthy Faces Most Important Week Since Becoming Speaker As Debt Battle Looms
House Republicans are set to vote this week on a $4.5 trillion GOP bill, the Limit, Save, Grow Act, which would raise the debt limit into 2024, while cutting federal spending by tens of billions of dollars, Punchbowl News reports, adding that the Treasury Department is expected to chime in this week on when they think the US is likely to default on its $31.4 trillion debt.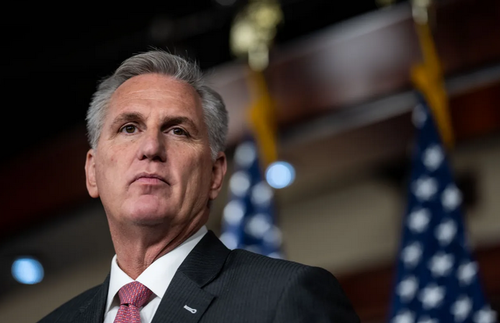 The bill, unveiled by House Speaker Kevin McCarthy (R-CA) last week, is the GOP's first stab at bringing Democrats and the Biden administration to the table after the two sides have made no progress over the past three months. It would raise the debt limit by $1.5 trillion, or through March 31 of next year, whichever comes first.
Republicans are insisting on linking a debt ceiling increase to spending cuts, but the White House says it wants a 'clean' hike of the borrowing limit.
It's unclear whether the GOP bill has enough support to pass.
On Sunday, McCarthy said he thought the bill would pass this week.
"We will hold a vote this week, and we will pass it, and we will send it to the Senate," he told Fox News' "Sunday Morning Futures."
That said, the bill has an unlikely chance of passage in its current form, as several GOP lawmakers - including Rep. Andy Biggs (AZ) and Tim Burchett (TN) are a 'lean no' and undecided - voiced concerns with it last week. In total, McCarthy can only afford to lose five votes, assuming all Democrats oppose the legislation.
"When we send this to the Senate, we're showing that, yes, we're able to raise the debt ceiling into the next year, but what we're doing is, we're being responsible fiscally and bringing our house back in order," McCarthy said on Sunday, adding "It doesn't solve all of our problems, but it gets us on the right path. And this gets us to the negotiating table, just as government and America expects us to do so."
More via Punchbowl News (emphasis ours);
No. 1: The House GOP whip operation worked throughout the weekend to shore up support for the package. As of late Sunday night, party leaders felt as if undecided Republicans were breaking their way.
The House Freedom Caucus is pushing their leadership to have new work requirements for social safety net programs under this legislation kick in during FY 2024 instead of FY 2025. Conservatives also want to increase the hours covered recipients must work from 20 to 30 per week. The leadership feels as if both of these asks are implausible..
No. 2: Democrats have no idea what McCarthy is up to. They don't have much insight into him or how the House GOP leadership operates at this point. But the mystery is overrated. McCarthy simply wants to get to the negotiating table with President Joe Biden and top Democrats. To do that, it's imperative that House Republicans pass this bill. Otherwise, the House could be forced to move a clean debt limit increase this summer. That's exactly what Biden wants, but it would be devastating for McCarthy.
At the end of the day, McCarthy wants three things in a final bill: spending reductions, permitting reform and some work requirements for social programs.
No. 3: House Republicans have become concerned about eliminating some tax provisions and whether outside groups would score that as a tax increase. The House Republican package got rid of a slew of tax credits that originated in the Inflation Reduction Act.
As we noted above, McCarthy and the GOP leadership were particularly concerned that Americans for Tax Reform would be opposed to repealing the tax credits. However, the group sent this statement over Sunday afternoon: "ATR supports the repeal of all green new deal tax credits in Biden's IRA. And always has."
No. 4: We also told you on Friday about a group of Midwestern Republicans who were concerned about the proposal eliminating ethanol credits. Right now, GOP leadership insiders believe that there won't be a serious problem with these members.
First, all House Republicans voted against the IRA last year, which means these members already voted against the provisions. And secondly, no one expects this to be in any final bipartisan deal with the White House and Senate Democrats. We dug deep into this in the Friday Midday edition. Midwesterners' reaction will be a big storyline this week.
No. 5: The House Rules Committee is scheduled to mark up the bill starting Tuesday at 4 p.m. This means the legislation could be on the floor as early as Wednesday. Yes, the House is scheduled to be in session until Friday. But don't expect McCarthy and the leadership to mess around here. If they have 218 votes locked down, House GOP leaders will go to the floor and vote.
Tyler Durden
Mon, 04/24/2023 - 11:25