Novo Forced To Limit Supply Of Blockbuster Obesity Drug Amid Soaring Demand
May 4, 2023 | Tags: ZEROHEDGE
Novo Forced To Limit Supply Of Blockbuster Obesity Drug Amid Soaring Demand
Danish pharmaceutical giant Novo Nordisk, the maker of the obesity drug Wegovy, revealed that surging demand in the US had forced it to temporarily restrict some supplies while manufacturing capacity is expanded. Investors reacted unfavorably to this news, sending shares down as much as 6.5% in Copenhagen.
Novo said soaring demand for Wegovy and Ozempic -- which has been a treatment for Type 2 diabetes -- was also prescribed for weight loss -- have both hit capacity constraints at multiple manufacturing sites. The company said new supply capacity will be brought online soon. 
"We cannot supply to an uptake that just continues growing," Chief Executive Officer Lars Fruergaard Jorgensen told investors during a conference call on Thursday. He said lower-strength starter doses for the US market are necessary to safeguard supplies for current patients.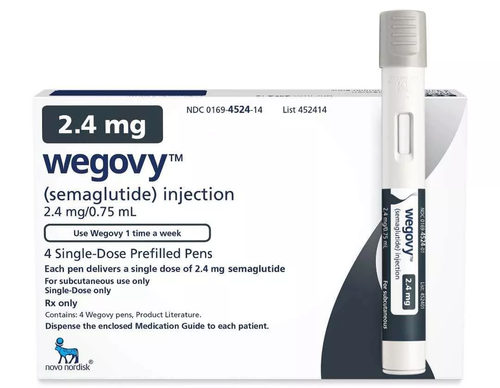 Bloomberg reported Novo is preparing open a third manufacturer facility for Wegovy later this year. A second production facility came online in April. 
Novo reported a 41% jump in first-quarter profit due mainly to the demand for Ozempic and Wegovy. Earnings per share climbed to 8.78 kroner ($1.31), exceeding analysts' estimates. Wegovy's revenue tripled to 4.56 billion kroner, although it missed forecasts due to the shortage. 
Novo shares were down 4.5% in Copenhagen's late afternoon trading session. 
Last month, Novo raised full-year guidance after noting strong sales trends for both drugs that share the same active ingredient: semaglutide.
Here's how Wall Street analysts covering Novo responded to today's news (list courtesy of Bloomberg):
Citi analyst Peter Verdult (buy) calls first-quarter earnings "stellar," but that the print's shine is taken off by supply relating to Wegovy and its sister-drug Ozempic, which both use the active ingredient GLP-1

Notes that while Wegovy misses expectations, the overall GLP-1 franchise beat expectations
 "The key market concern will be that today's commentary on supply will limit the scope for further revenue upgrades," Verdult writes

 Bloomberg Intelligence's Michael Shah (no rating) says 5% miss on Wegovy "won't go unnoticed," with reduced US supply due to tight capacity 

Supply woes "may cause jitters among investors, given the obesity drug is a key driver of valuation that leaves no room for error"

Handelsbanken's Mattias Haggblom (hold) says limiting US supply may temporarily restrict the uptake of new patients; says underlying results were "somewhat stronger" but believes the FX outlook restricts further revisions

Key focus in investor call will be on supply chain, manufacturing constraints and any update on impact from Inflation Reduction Act in the US

Jefferies analyst Peter Welford (underperform) says company- provided outlook reflects declining Rare Disease drug sales and "inherent uncertainty in the pace of Wegovy roll-out, and continued periodic supply constraints" 

Says Novo is again temporarily reducing US supplies of the lower-dose version of Wegovy "to ensure continuity of patient care"
 Consensus is not yet fully reflecting strong 1Q numbers, Welford says, expecting "modest" potential upgrades to consensus sales and Ebit upgrades, but already widely accounted for
Novo appears well-positioned to capitalize on diabetes and obesity treatments, particularly in the US, due to a high percentage of the population being overweight. 
Goldman last month placed a "Buy" on WW International, previously known as "Weight Watchers."

There's big money trying to capitalize on 'Make America Slim Again.'
Tyler Durden
Thu, 05/04/2023 - 16:20