This Is What Hedge Funds Bought And Sold In Q1: 13F Summary
May 16, 2023 | Tags: ZEROHEDGE
This Is What Hedge Funds Bought And Sold In Q1: 13F Summary
While it is not exactly news that market breadth has collapsed to record low levels, even we were surprised to learn last week that according to SocGen calculations, if one excludes the impact of the market's latest mania  - AI stocks - the S&P would be down 2% instead of up 8%.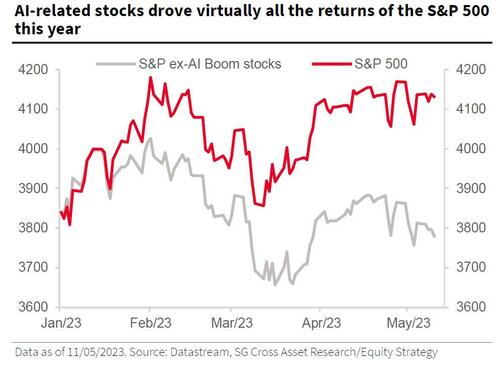 But it's not like these stocks are rising in a vaccum: someone is buying them (aggressively at that). Well, courtesy of the latest 13F filings that hit overnight, we know what that someone is.
According to 13F data compiled by Bloomberg, hedge funds and other institutional investors bought into the sizzling tech rally - with an emphasis on, you guessed it, AI - in the first quarter while selling financial stocks as the banking sector imploded.
The combined value of institutional investors' investments in Facebook parent Meta Platforms increased by $8.5 billion in the first three months of the year through March 31, the second largest change by market value, according to Bloomberg's analysis of data from 13F filings. Occidental Petroleum was the most purchased stock, while AI leader Nvidia, Salesforce and Netflix were also among the names institutional investors bought.
But while everyone bought tech, a handful of billionaire investing titans such as Stanley Druckenmiller and David Tepper loaded up on aggressively on artificial intelligence stocks during the first quarter.
According to Bloomberg, Druckenmiller's Duquesne Family Office increased its stake in Nvidia, which more than doubled this year, making it one of the top performers in the S&P 500 Index. The fund added more than 208,000 shares of Nvidia during the first quarter, increasing the market value of the firm's holding in the chipmaker to about $220 million.
"AI is very, very real and could be every bit as impactful as the internet," Druckenmiller said at the 2023 Sohn Investment Conference last week.
Duquesne Family Office added a large new position in Microsoft which now makes up 9% of the firm's roughly $2.3 billion US equities portfolio. Microsoft has a $10 billion investment in OpenAI, whose ChatGPT tool has lit up the internet. Druckenmiller's firm also added a new position in Iqvia Holdings, a health-care technology company that says on its website it has "transformative AI capabilities" to help with its research and commercial efforts. Duquesne bought about 474,500 shares of the company during the first quarter with a market value of $94 million.
Meanwhile, Tepper's Appaloosa Management also added a new position in Nvidia, buying 150,000 shares with a market value of about $41.7 million. The firm also bought 500,000 new shares of Cathie Wood's ARK Innovation ETF, which invests in companies that create disruptive technologies. While the fund has lost three-quarters of its value since its high in early 2021, it has gained 23% this year.
While they were buying tech, and/or AI, institutional investors were also reducing the value of their investments in financial shares by the most for any industry, unloading $1 billion of SVB Financial Group as its Silicon Valley Bank collapsed. Meanwhile, as we reported last night, Berkshire Hathaway eliminated US Bancorp and Bank of New York Mellon from its holdings.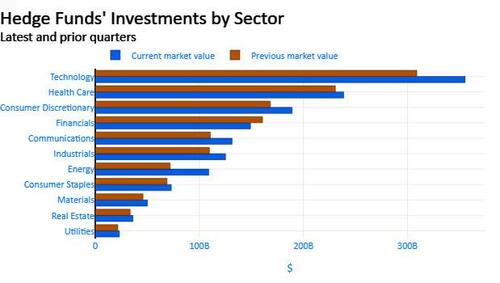 Curiously, the SPDR S&P Regional Banking ETF, the KRE, was a top buy among hedge funds last quarter as the fund fell 25%. Among the investor group trying to catch the falling knife, 16 cut or exited positions, while 50 added shares. The buy ratio was among the highest for securities that had at least 50 position changes, according to Bloomberg's analysis of 13F filings by 1,099 hedge funds.
Hedge funds added a net 13.47 million KRE ETF shares, increasing their combined holding to 17.97 million shares; Pentwater Capital Management LP, with 2.31 million shares, and Parallax Volatility Advisers LP, with 1.94 million shares, were the biggest buyers
Marshall Wace LLP was the biggest bear on the stock among the investor group, selling 855,178 shares; Two Sigma Investments LP sold 401,600 shares
Bloomberg analyzed 13F filings by 1,056 hedge funds and other institutional investors. Their combined holdings amounted to roughly $1.5 trillion, compared with $1.4 trillion held by the same funds three months earlier. Here are some of more notable findings:
Hedge funds had 8.2% in Communications at the end of the March 31 quarter, the biggest weighting among six major investor types, according to Bloomberg's analysis of 13F filings. Brokers had the lowest exposure, at 4.9% of portfolios. Hedge funds held $151.5 billion of Communications stocks, up from $128.82 billion at the end of the previous quarter. iQIYI Inc Adr-Class A, Lumen Technologies Inc and AT&T Inc were among the top position increases in Communications by hedge funds.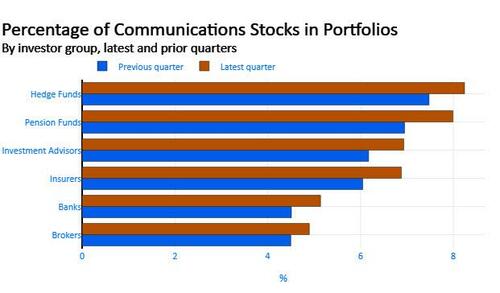 Hedge Funds bought 37.54 million Nikola Corp shares in the March 31 quarter as the stock fell 44%, the biggest position increase among their investments, according to Bloomberg's preliminary analysis of 13F filings. Among the group, seven increased their Nikola positions, while five reported a decrease.
Hedge Funds sold 20.89 million shares in Clarivate PLC as the stock rose 13%, the biggest selloff, the analysis shows. Twenty investors reduced or exited a stake, while 15 reported an increase.
Meta Platforms Class A provided the biggest increase by market value for a single investment, at $4.64 billion. The value of the group's combined investment in Charles Schwab Corp. dropped $1.15 billion, the biggest decrease by market value.
Iconiq Capital continued to slash its stake in cloud-computing company Snowflake in the first quarter, selling 4.85 million shares. The market value of its holding totaled about $1 billion, down $625 million from the prior quarter. The San Francisco-based firm only made two new buys in the first quarter, adding small positions in game companies Roblox and Take-Two Interactive Software worth less than $1 million.
The Saudi sovereign wealth fund bought almost 8.8 million shares of Electronic Arts during the first quarter, when the stock slumped following a disappointing earnings outlook. The Saudis held about 16 million shares prior to the first quarter, and held 24.8 million, with a market value of $2.99 billion, as of March 31. That makes them the largest outside stockholder in EA.
George Soros's investment firm cut holdings in electric-vehicle makers, slashing a stake in Rivian Automotive Inc. after a 90% share decline. Soros Fund Management also sold off its entire $16 million position in Tesla which it acquired during a big tech push in the second quarter of 2022. It trimmed other tech-related bets, including stakes in Alphabet Inc., Amazon.com Inc., Salesforce Inc. and Intuit Inc.
The investment firm that manages the Walton family's fortune bought more shares of the nearly $38 billion Vanguard Short-Term Bond ETF. WIT LLC also added a new position in the SPDR Bloomberg 1-3 Month T-Bill ETF with a market value of roughly $10 million.
Adage Capital Partners GP LLC sold 746,202 shares in SVB Financial Group, the biggest reduction by the investor group; Renaissance Technologies LLC sold 719,930 shares
TCI Fund Management Ltd sold 31.01 million shares in Alphabet Class C, the biggest reduction by the investor group; Egerton Capital UK LLP sold 5.36 million shares
Mason Capital Management LLC added 674.6 million shares in Occidental Petroleum, the largest increase; ExodusPoint Capital Management LP added 1.01 million shares
Egerton Capital UK LLP sold 9.5 million shares in Charles Schwab, the biggest reduction by the investor group; Echo Street Capital Management LLC sold 2.2 million shares
Farallon Capital Management LLC sold 15.18 million shares in Clarivate PLC, the biggest reduction by the investor group; Rivulet Capital LLC sold 6.93 million shares
Coatue Management LLC added 4.29 million shares in Meta Platforms Class A, the largest increase; Alkeon Capital Management LLC added 1.98 million shares
Antara Capital LP added 36.81 million shares in Nikola, the largest increase; Coatue Management LLC added 1.52 million shares
Microsoft was cut or reduced by 185 investors, the biggest such number; Microsoft was also increased or initiated by 180 investors, the biggest tally. Occidental Petroleum was the most valuable overall holding at $43.28 billion. Microsoft remains the most valuable overall holding at $20.16 billion
Developing: we will have more after the close once we get all the late reporters
Tyler Durden
Tue, 05/16/2023 - 15:45