Dollar Tree Plunges After Profit Tumbles As Thieves Pillage Stores
May 25, 2023 | Tags: ZEROHEDGE
Dollar Tree Plunges After Profit Tumbles As Thieves Pillage Stores
The consumer market is splitting into: the first, luxury segment, which caters to the ultra wealthy has never had it better, especially in Europe where the luxury index is trading at a record premium to the rest of the market (although that particular bubble may be bursting)...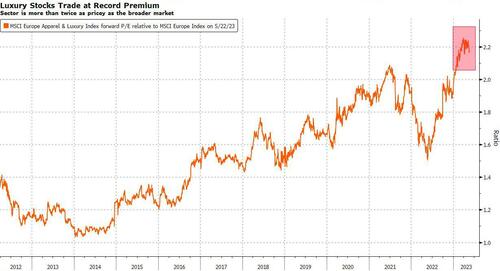 ... and then there are retailers catering to the "income income cohorts" such as Dollar General and Dollar (and 25 cents) Tree, and which are not only getting crushed... they are also getting robbed.
Shares of ultra-discounted Dollar Tree plunged on Thursday, tumbling more than 11% after the company trimmed its full-year profit forecast after missing quarterly profit estimates, hurt by slowing demand for discretionary items and elevated cost pressures.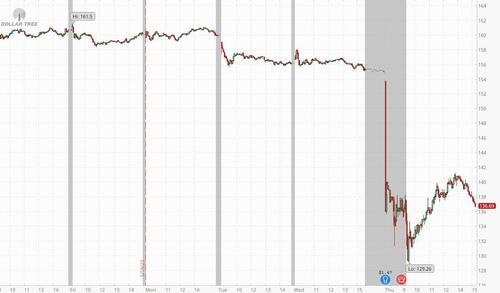 With stubborn inflation, the company is experiencing a fall in demand for higher-margin discretionary goods compared to perishables like snacks and cookies, that has dented margins at a time when costs have been elevated.
And, like so many other suffering retailers, DLTR has Soros-DAs to thank for its woes: while the company showed an increase in sales, which rose 6.1% in the quarter to $7.32 billion, it slashed its profit outlook due to shrink — a polite word for theft (EPS of $1.47 missed estimates of $1.52).
"While we are seeing early results from our initiatives, we are not immune to the external pressures affecting all of retail, notably, the margin impact of elevated shrink and the product mix shift to consumables," CEO Rick Dreiling said in a news release. "While we are maintaining our full-year 2023 sales outlook, we are adjusting our EPS outlook as we expect the elevated shrink and unfavorable sales mix to persist through the balance of the year. We still expect earnings to be more back-end loaded this year as the benefits of lower ocean freight rates flow through."
As a result of the reduced spending and increased theft, the Chesapeake, Virginia-based company said it now expects fiscal 2023 earnings of $5.73 to $6.13 per share, compared with its prior outlook of between $6.30 and $6.80 per share.
"We were very surprised by the cut. We are not sure why shrink wasn't known when guidance was provided last quarter," said Wells Fargo analyst Edward Kelly.
Retail shrinkage — typically in the form of retail theft — has been a problem for several retailers. Among them is Target, which has reported a surge in retail crime, which is projected to cause an estimated $500 million more in losses and stolen merchandise this year over last. Then again, the retailer's decision to turn to transactivism and alienate the majority of its shopper will cause far more damage to the company's stock price than mere theft.
"The unfortunate fact is violent incidents are increasing at our stores and across the entire retail industry," Target Chairman and CEO Brian Cornell said last week. "And when products are stolen, simply put they are no longer available for guests who depend on them. Left unchecked, organized retail crime degrades the communities we call home. As we work to address this problem, the safety of our guests and our team members will always be our primary concern. Beyond safety concerns, worsening shrink rates are putting significant pressure on our financial results."
Both Dollar Tree and rival Dollar General are in the midst of a major renovation project. The retailers are investing in these overhauls, which include increased refrigerator and freezer capacity, to accommodate demand from consumers across all income brackets for less costly groceries than those found at traditional supermarkets.
Hopefully by the time they are done, they still have some non-stolen inventory to sell...
Tyler Durden
Thu, 05/25/2023 - 20:00