100s Of ULEZ Cameras Destroyed By Vigilante Group Following Wider London Roll-Out
September 1, 2023 | Tags: ZEROHEDGE
100s Of ULEZ Cameras Destroyed By Vigilante Group Following Wider London Roll-Out
Authored by Thomas Brooke via Remix News,
Hundreds of Ultra Low Emission Zone (ULEZ) cameras have been vandalized by a vigilante group that opposes the controversial scheme, which extended across wider London this week and charges road users for traveling in non-compliant vehicles.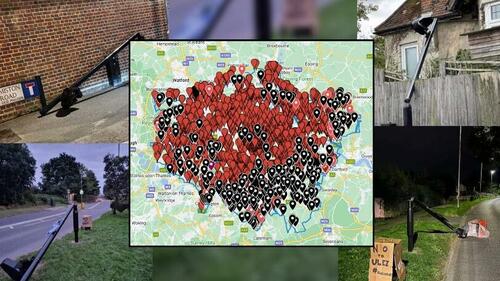 The scheme is part of London Mayor Sadiq Khan's green agenda to enhance the air quality across the U.K. capital; however, many critics of its extension into London's suburbs consider it to be a regressive tax and cash grab that will hit working families the hardest.
A vigilante group known as the Blade Runners has been targeting newly installed cameras across the capital in a bid to disrupt the implementation of ULEZ as much as possible, and hundreds of cameras have already been hit.
Prior to the roll-out, which came into force on Tuesday, around 500 cameras had been marked as out of action or damaged, according to a map the vigilante group promoted. Many of the cameras targeted were located in London's southeast with 156 of the 185 cameras around the districts of Sydenham and Sidcup being hit, as well as 18 of the 22 cameras installed in Bromley.
The camera map, published on a popular anti-ULEZ Facebook page, allows users to update it when a camera has been rendered out of action. The black pins represent cameras that are now missing or damaged.
In the southeast town of Orpington, just two of the new number plate recognition cameras were in working order on the day of the ULEZ expansion after vigilantes smashed, spray-painted, or cut the wires of 14 cameras on a single road.
Video footage and photographs of disruptors vandalizing the cameras have been published on social media, much to the delight of those critical of the scheme.
Blade runners busy.
These Individuals are cutting down the hated ULEZ cameras in London.
How do you see them, heroes or villains? pic.twitter.com/ypaf9Uos4h

— David Vance (@DVATW) August 22, 2023
UK citizens are furious Sadiq Khan is installing ULEZ (Ultra low emission zones) recognition cameras throughout London…

This is a direct attack on the poor…

Citizens are fighting back by cutting them down as soon as they're installed

RESIST🔥🔥🔥 pic.twitter.com/sKBAYiuDcN

— Pelham (@Resist_05) August 31, 2023
One camera was even installed just meters from a crematorium in order to pick up funeral-goers, a camera that was swiftly taken care of by locals.
ULEZ CREMATORIUM CAMERA DOWNED!
It was reported yesterday that Sadiq Khan placed an ULEZ camera outside a crematorium in Upmister, to help nick funeral goers

It looks like locals have dealt with it overnight... pic.twitter.com/58P4hMGH6k

— Martin Daubney 🇬🇧 (@MartinDaubney) August 31, 2023
Despite their criminal activity, the vigilantes have received political support, including from a former Conservative Party leader and cabinet minister, Sir Iain Duncan Smith, who insisted he was "happy" for Londoners to fight back because "they are facing an imposition that no one wants and they have been lied to about it."
"A lot of people in my constituency have been cementing up the cameras or putting plastic bags over them," he said.

"The actions you are seeing show how angry people are at what is being imposed on them. Sadiq Khan has gerrymandered all the information – people have had enough."
Last November, Khan announced the extension to the scheme, which had previously been reserved for central London, to all London boroughs despite overwhelming opposition to the plan.
The BBC reported that a public consultation on the extension plans, which Khan insisted was a genuine consultation and would factor into his decision, showed 80 percent of people in the affected area opposed the move.
It is the latest in a continuous assault by Khan on motorists, following the installation of Low Traffic Neighbourhoods (LTNs), extensive road-narrowing, and the excessive expansion of 20-mph zones.
When he was heckled at a public event back in March over the ULEZ roll-out, Khan suggested that those who opposed the plans were "far-right," a remark that was met by derision and booing from the Question Time audience.
Tyler Durden
Fri, 09/01/2023 - 05:00