"Brace For The Worst": Super Typhoon Saola Barrels Towards South China
September 1, 2023 | Tags: ZEROHEDGE
"Brace For The Worst": Super Typhoon Saola Barrels Towards South China
Hong Kong government just issued a No. 10 storm signal -- the highest warning under the city's weather system -- as super Typhoon Saola approaches Hong Kong, Shenzhen, and other southern Chinese metro areas. 
"According to the present forecast track, Saola will be closest to Hong Kong around midnight, skirting within around 40km (25 miles) south of the Hong Kong Observatory," the Hong Kong Observatory said.
The storm is about 56 miles from the financial hub and has maximum sustained winds of 140 mph, which would be equivalent to a Category 4 hurricane on the Saffir-Simpson Hurricane Scale.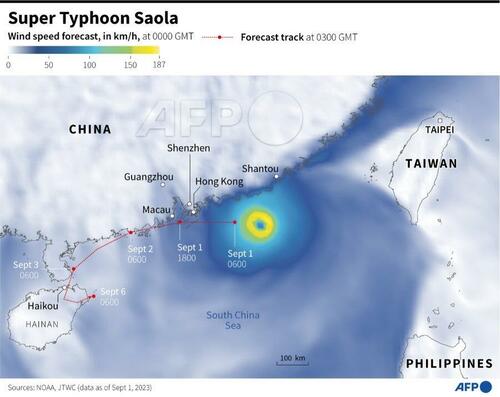 Major marine terminals are in the path of the storm. 
A No.10 signal was issued last during Super Typhoon Mangkhut in 2018. And since World War II, it has only been issued 16 times. 
China's National Weather Office warned the storm "may become the strongest typhoon to make landfall in the Pearl River Delta since 1949," referring to Hong Kong, Macau, and Guangdong provinces.
Former Observatory chief Lam Chiu-ying warned residents: "Can you see the trend for how the typhoon is moving? Brace for the worst, and make your best preparations."
Tyler Durden
Fri, 09/01/2023 - 10:30