UAW President Has "Only One True Enemy, Multibillion Dollar Corporations"
September 3, 2023 | Tags: ZEROHEDGE
UAW President Has "Only One True Enemy, Multibillion Dollar Corporations"
Authored by Mike Shedlock via MishTalk.com,
The one and only enemy of UAW president Shawn Fain are the companies that employ 350,000 UAW workers, 150,000 for the big three.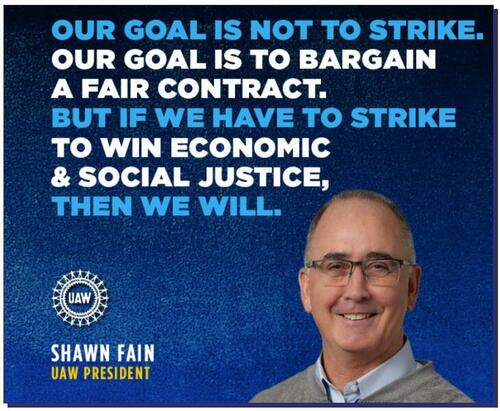 Meet the Man Who Has Detroit on Edge
The Wall Street Journal says Meet the Man Who Has Detroit on Edge
When Shawn Fain glances at the wall of executive portraits at the United Auto Workers' historic Black Lake conference center in Northern Michigan, there is one photo that always catches him off-guard. His own.

In recent weeks, he has been unusually outspoken about his frustrations with labor talks—at one point, making a public show of throwing Stellantis's bargaining proposals in the trash—and has embraced fiery rhetoric that has riled up workers for a potential walkout and taken many auto executives aback.

At an event in March he said the union was fighting its "one and only true enemy: multibillion-dollar corporations."

"How far are you willing to go to get the contract you deserve?" Fain yelled to a roaring crowd at a recent rally, after walking on stage to Eminem's "Not Afraid." Fain says he is a fan of '90s hip-hop.
Circle September 14, On Your Calendar
The New Republic reports Labor Chief Shawn Fain Worries the Big Three—and the White House
If negotiators don't agree on a contract by September 14, says UAW President Shawn Fain, 150,000 workers will walk off the job.

I asked Fain about reports that the UAW is withholding its expected endorsement of President Joe Biden, with whom Fain met in July. "It was a good meeting," Fain said, but "we've made it clear that our endorsements are going to be earned, not freely given."
UAW Files Unfair Labor Practice Charges Against GM, Stellantis
Reuters reports UAW Files Unfair Labor Practice Charges Against GM, Stellantis
The United Auto Workers union said on Thursday it filed unfair labor practice charges with the National Labor Relations Board against General Motors and Chrysler-parent Stellantis, saying they have refused to bargain in good faith.

"We're going to fight like hell to get our equitable share of justice for workers," he said. "We can get there – but these companies better buckle down and they better get serious."

GM manufacturing chief Gerald Johnson said the company strongly refuted the unfair labor charge. "We believe it has no merit and is an insult to the bargaining committees. We have been hyper-focused on negotiating directly and in good faith with the UAW and are making progress," Johnson said.
Why a Big Union Is Snubbing Biden
Politico comments Why a Big Union Is Snubbing Biden, Doing Industry's Dirty Work and Creating an Opening for Trump
On one key issue, the UAW has aligned itself closely with the executives it otherwise denounces: resistance to the crucially needed clean energy transition. It's an embarrassing move that highlights the union's short-term thinking, not just in light of the climate crisis, but because of the union's own environmentalist roots and clear understanding that an electric future is coming.

The union's ambivalence toward a clean energy future was made strikingly clear when the historically pro-Democrat UAW refused to endorse, for now, President Joe Biden's re-election bid.

The decision came after the White House's announcement of a $9.2 billion Department of Energy loan guarantee to Ford Motor Co. to help build a massive battery plant, BlueOval City, in Stanton, Tennessee, a so-called right-to-work state. The loan contains no language requiring Ford or its joint venture partner, South Korea's SK On, a unit of a Korean chemical company, to ensure union involvement.

The jobs in Stanton will be "low road," UAW president Shawn Fain predicted; Ford responded that wages paid will be "competitive," which in a right-to-work state promises to be less encouraging than it's meant to sound.

Trump himself has seen enough of an opening that he was moved to make a 3-minute campaign video where he inveighed with characteristic eloquence, "I hope United Auto Workers is listening to this, because I think you better endorse Trump because I'm going to grow your business and they are destroying your business. They are absolutely destroying your business."

"EPA must recognize," the union insisted in its plea to ease the proposed regulations, "that the current domestic auto assembly footprint is heavily weighted towards the profitable light-duty truck and SUVs that are tasked with funding the EV transition."
Much of the Politico article is environmental fearmongering.
At the same time, all of this is hugely inflationary. EVs are more expensive, the need for minerals does not scale, and the push does not do a damn thing for the environment.
"I want to be very clear about this: our goal is NOT to strike. Our goal is to bargain a fair contract. But if we have to strike to win economic and social justice, then we will."
— #UAW President Shawn Fain#1u #solidarity #StrikeReady pic.twitter.com/AA4QFoIwcG

— UAW (@UAW) September 1, 2023
What a hoot. Fain's demands are so preposterous that a strike appears unavoidable. Social and economic justice is another hoot.
How Likely is a Strike?
CNBC comments : A brief survey of 99 investors by Morgan Stanley found 58% believe a strike is "extremely likely." That's followed by 24% who said it's "somewhat likely." Just 16% said a strike was unlikely, while 2% said it was "neither likely not unlikely."
I put the odds at 90 percent. The sides are too far apart, Fain is the most militant UAW leader ever, and the push for EVs will definitely cost jobs because EV engines have about 20 moving parts vs 2,000 or so for a standard internal combustion engine.
Jobs will vanish. Fain wants to stop that. He can't no one can. And the faster the transition, the faster the jobs go.
This all plays into Trump's hands. I expect a long, nasty strike. If the big three give into the preposterous demands of Fain, they are all headed for bankruptcy, GM for a second time.
Environmental Side of Things
The third link above is another big hoot.
The National Highway Traffic Safety Administration NHTSA did an impact assessment of 4 fuel standard proposals and compared them to the cost of doing nothing.
Guess what.
Trade Commission-Free* Stocks, ETFs, Options, and Futures with The Award-Winning Technology of TradeStation.
*  *  *
Tyler Durden
Sun, 09/03/2023 - 11:30