Musk's Father Worried About Assassination After Escalating Attacks
September 4, 2023 | Tags: ZEROHEDGE
Musk's Father Worried About Assassination After Escalating Attacks
The father of Elon Musk is worried for his son's safety, after he says The New Yorker painted a target on his back with an article highlighting Elon's influence on government decisions about the war in Ukraine, and implied that a conversation Musk had with Russian President Vladimir Putin means Kremliny things are afoot.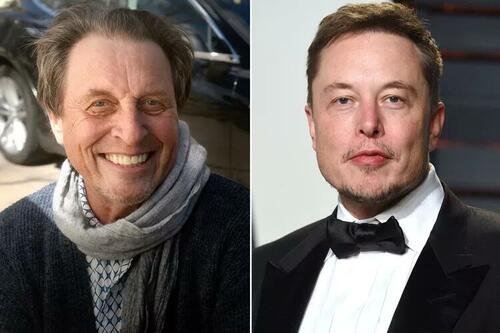 Errol Musk, 77, told The Sun that the article was "a hit job, a shadow government-sponsored opening salvo on Elon - with one Pentagon official telling The New Yorker that Elon was treated like an "unelected official." The article also claims that Musk's "influence is more brazen and expansive" than previous "meddling of oligarchs and other monied interests in the fate of nations."
When asked by the Sun whether he feared Elon's assassination by the "shadow government," he replied "Yes," suggesting that the New Yorker article was "the artillery-like softening up of the enemy before the actual attack," according.
Interestingly, The New Yorker article came out just days before the Biden DOJ sued Musk's SpaceX for allegedly discriminating against non-US citizens (as all rocket companies and the US government tend not to do).
In July, President Joe 'The Big Guy' Biden suggested that Musk could be investigated for buying X, formerly Twitter, with the help of a Saudi Arabian conglomerate.
When asked if Musk was a threat to national security, Biden said "Elon Musk's cooperation and/or technical relationships with other countries is worthy of being looked at.
"Whether or not he is doing anything inappropriate, I'm not suggesting that.
"I'm suggesting they're worth being looked at and that's all I'll say," Biden continued, adding "There's a lot of ways."
Musk has also faced assault from censorship advocates, who have accused him of allowing a rise in hate speech and disinformation since he bought X. Musk's supporters say he's protecting freedom of speech, though many have claimed they're still being suppressed by the social media giant.
The day before the DOJ sued SpaceX, the DOJ said: "We're currently expanding our safety and elections teams to focus on combating manipulation, surfacing inauthentic accounts and closely monitoring the platform for emerging threats.
"Our work is ongoing. These increased investments in people, policy and product will further ensure our communities have access to open, accurate and safe political discourse on X."
In May, Musk's mother scolded her son for joking about assassination.
That's not funny😠😠 https://t.co/KgLAzY3F8s

— Maye Musk (@mayemusk) May 9, 2022
Musk getting it from all sides
Musk has previously joked to Joe Rogan that he could be assassinated after former Russian space agency head Dmitry Rogozin made a veiled threat over Musk supplying Ukraine with Starlink satellite service last May.
Elon and Errol are reportedly estranged, with Elon once calling his father a "terrible human being." That said, earlier this year Errol said that his son is a "force for good."
Tyler Durden
Mon, 09/04/2023 - 12:25