AirBnBust: New York "Effectively Bans" Short-Term Rentals
September 5, 2023 | Tags: ZEROHEDGE
AirBnBust: New York "Effectively Bans" Short-Term Rentals
Last week, we wrote that the bursting of the AirBnB bubble will also pop the broader housing bubble, which has shown remarkable resilience in the face of the highest interest rates since Volcker (although today's ominous tumble in homebuilder stocks is certainly a concern), largely the result of a staggering divergence between effective mortgage rates (since almost everyone refinanced into a 30Y mortgage when rates were at record lows a few years back and is locked into a nice, low rate for a long, long time... or until they sell) and current 30Y mortgages, which at 7.5% nobody can afford.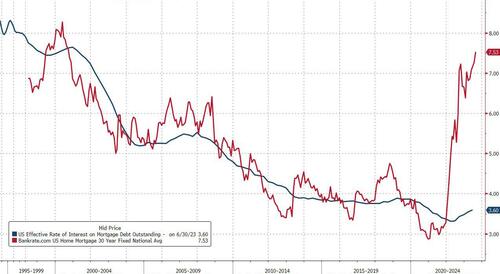 So back to the coming AirBnB fiasco, last Wednesday the real estate experts at RedFin wrote that investor home purchases fell 45% from a year earlier in the second quarter, outpacing the 31% drop in overall home sales. That's the biggest decline since 2008 with the exception of the quarter before, when they dropped 48%.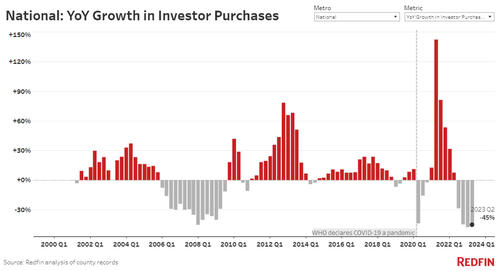 The drop in purchases has brought the total number of homes bought by investors below pre-pandemic levels, which is a major concern for a market where investors remained the last remaining support pillar now that most average Americans seeking to buy their first home are simply unable to afford it and are stuck renting indefinitely.
Real estate investors bought roughly 50,000 U.S. homes in the second quarter, the fewest of any second quarter in seven years, with the exception of the start of the pandemic.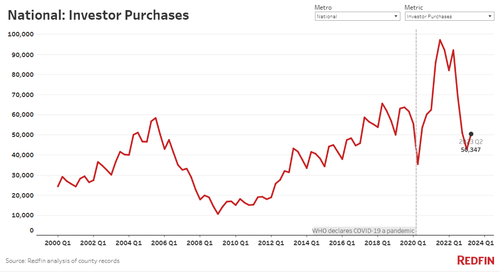 The decline comes as this year's relatively cool housing and rental markets makes investing in homes less attractive than it was during the pandemic-driven homebuying frenzy of 2021 and early 2022, when record numbers of AirBnB were purchased as hotel and lodging surrogates.
There is another, more tangible reason why the AirBnBoom is turning into an AirBnBust: starting today, the short-term rental landscape is changing drastically in New York City, and according to the company itself, will be "effectively banned" threatening the entire AirBnB model in the Big Apple, and other big cities to follow. 
As the RealDeal reports, beginning Tuesday, short-term rental hosts in New York City will be required to register their units, which will likely have a significant impact on platforms like Airbnb and potentially steer travelers toward hotels or New Jersey.
The new regulation, known as Local Law 18, includes several rules that may prove inconvenient for travelers and hosts:
Limit on Guests: Short-term rentals can accommodate no more than two paying guests at a time, regardless of the property's size or the number of bedrooms.
Host Presence: Hosts are required to be physically present while their properties are being rented.
Unlocked Doors: Hosts and visitors must leave the interior doors within the rental unlocked, allowing occupants access to the entire unit.
The measure aims to curb illegal short-term rentals (which is basically every AirBnB listing), enhance guest safety, and alleviate housing market pressures. It could also drive travelers away from short-term rental platforms altogether, as the restrictions effectively eliminate the appeal of staying in apartments, and forces them to share space with strangers or opt for hotel rooms.
"Unless it is a really big unit, I think a lot of travelers will find it uncomfortable to stay in an apartment that fully complies with and abides by the city's new regulations," Sean Hennessey, a professor at New York University's Jonathan M. Tisch Center of Hospitality, told the outlet. And if there is one thing New York does not have a lot of, it is "really big" apartments.
For those hoping to follow and comply with the regulatory framework, good luck: as of Aug. 28, the Office of Special Enforcement in New York City had received over 3,250 applications for short-term rental listings. They reviewed 808 submissions, granted 257 certificates, rejected 72, and returned 479 for further information or corrections, according to the Post.
The OSE also maintains a Prohibited Buildings List of units that can't be rented short-term due to lease terms or rent regulations.
Penalties for hosts for violations of these regulations can range from $100 to $1,000 for the first offense, while guests will not face penalties for staying in an illegal property.
Naturally, Airbnb sued to have the law gutted, claiming it was effectively a ban on short-term rental  but a judge dismissed the lawsuit in August.
The company said that listings without a registration number will be unable to accept new reservations once the law is activated. To minimize disruptions to existing bookings, Airbnb will honor reservations made before Tuesday for stays through Dec. 1, refunding the service fee. After Dec. 1, Airbnb will cancel and refund reservations at uncertified properties. The platform, along with hosts, are attempting to work with local officials to pass a less-restrictive version of the measure.
With New York City's tourism market already experiencing high demand, with more than 63 million travelers expected in 2023, the outlet reported, Airbnb alternatives are rapidly emerging to try and fill the short-term rental gap.  Some of these alternatives, however, will face similar predicaments to the short-term rental giant.
San Francisco-based Sonder could provide one alternative. The company has units in the Financial District and elsewhere that aren't covered by the short-term rental law. The company's business model, however, is reliant on receiving business from other platforms, including Airbnb.
Additionally, Sonder has had some issues of its own. In the spring, the startup was warned that it had until mid-October to improve its share price or face delisting from Nasdaq. The company, which manages and leases rentals itself (unlike Airbnb), has experienced multiple rounds of layoffs in recent months.
Kindred is a startup that charges residents to join a cohort of travelers and homesharers to host or swap homes without money changing hands directly. There are more than 1,000 residents registered in the New York metro area, co-founder Justine Palefsky told Crain's.
The biggest beneficiaries from the suspension of AirBnB, are traditional hotels, but even some luxury brands are willing to at least partially embrace a short-term rental model. The Ritz-Carlton in NoMad has 16 short-term rental units up for grabs for $9,000 a night.
Finally, even if the New York crackdown seems too regional to crush the company's business model, it is the other abovementioned trends that have sealed AirBnB's coffin, and assure that the short-term rental company will be the proverbial canary in the housemine. And for those who were in kindergarten during the bursting of the 2007 housing bubble and today are AirBnB moguls, the following refresher from BowTiedBroke will be a useful walkthru for what comes next:
It has begun:

Since I went through Short Sales, Deed in Lieu's and straight up Foreclosures with my RE adventures of '01-'09, here is how the process plays out. I firmly believe heavy Airbnb markets are going to feel some pain.

The question is: How many first time STR owners/over-leveraged STR owners are out there and how will getting their credit ruined affect other markets or sectors in the US. I have no clue how the trickle down will go.

But, here are the steps:

1) Cash flow isn't covering the mortgage and other expenses.

2) You stop making the payments

3) The bank QUICKLY reaches out to see what they can do to "help you" continue making payments to them. They won't call daily, but they do call at least once/week, sometimes every few days.

4) You have no way to make the payments so the bank may offer to allow you to try a "Short Sale", selling the home for less than the amount you owe and being forgiven of the difference (maybe).

5) You get an offer on the home. Bank rejects it. (There are instances where they accept..maybe more so now, but I never had any short sale offers accepted in ''08-'09 by BofA or Wells Fargo)

6) If no offers are accepted by the bank, the next step is to try a Deed in Lieu. You attempt to hand keys back to the bank for a "sum" and they take over property. You write a check for a negotiated dollar amount, they send you all types of paperwork which will often say "We can still come after you for the forgiven difference one day".

7) To do the DIL, the person at bank you're negotiating with is not the one making the decision. It's usually their supervisor. So your hardship "story" is usually being relayed to another person that you never even get to talk to who has the final say.

8) If the DIL is rejected, it's straight up Foreclosure through the courts.

9) You get a wonderful 1099-C. Cancelation of Debt Form. Let's say you owe $1,000,000. They foreclose and resell your property at auction and the bank gets $750,000 for it. They forgave $250,000 of your debt. It's their "gift" to you. So you get to pay taxes on a $250,000 gift. Fun times.

The other issue with all of the above: Your credit is shot from the get go. Even in the short sale process, you aren't making your payments. So each month that passes just dings your credit more and more. Say goodbye to having any ability to purchase anything on credit for around 5 years. At the 7 year mark, it falls off if they finalize your DIL or foreclosure, but your purchasing power is shot for a long time. My credit was 790 in 2008. By 2009, it was 400. Literally everything after this process has to be purchased with cash or some type of high interest hard money loan.
Tyler Durden
Tue, 09/05/2023 - 21:20