China Broadens iPhone Ban For Government Officials At Work 
September 6, 2023 | Tags: ZEROHEDGE
China Broadens iPhone Ban For Government Officials At Work 
For years, Beijing has restricted employees at some agencies from using Apple's iPhone for work-related tasks. A new order includes iPhones and other foreign-branded devices across additional central government agencies. This comes one week after Huawei Technologies launched a new high-tech smartphone and an event next week by Apple to launch its new line of iPhones.
Government officials recently issued orders to their staff that iPhones and other foreign-branded devices are not suitable for work, according to the Wall Street Journal, citing people familiar with the matter. 
It's unclear how many government agencies were hit with the iPhone ban, but what's clear is that Beijing's campaign to cut reliance on Western technology is full steam ahead. The people said, "Beijing has for years restricted government officials at some agencies from using iPhones for work, but the order has now been widened."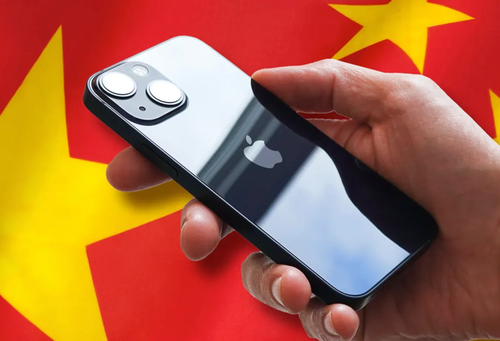 The latest order comes one week after Huawei launched a new smartphone powered by an advanced 7-nanometer processor chip, a sign that Beijing's push to circumvent US efforts to crush its semiconductor industry via sanctions is failing. 
Beijing recently purged its agencies and state-owned enterprises of foreign technology, including computers, operating systems, and software, replacing devices with domestic products for national security reasons. This comes as China's rivalry with the US intensifies, and lawmakers on Capitol Hill have been purging critical infrastructure of Chinese-made products. 
WSJ noted China is one of Apple's largest markets and generates about 19% of overall revenue:
The move by Beijing could have a chilling effect for foreign brands in China, including Apple. Apple dominates the high-end smartphone market in the country and counts China as one of its biggest markets, relying on it for about 19% of its overall revenue.
What's clear is the geopolitical rivalry between the global superpowers continues to worsen and shows no signs of slowing -- each country is trying to eradicate foreign-branded tech from their government agencies and critical infrastructure due to national security threats. 
Tyler Durden
Wed, 09/06/2023 - 07:45