"It's Working" – G7 Has No Immediate Plans To Review Its Failing Russian Oil Price Cap
September 6, 2023 | Tags: ZEROHEDGE
"It's Working" - G7 Has No Immediate Plans To Review Its Failing Russian Oil Price Cap
Authored by Tsvetana Paraskova via OilPrice.com,
The G7 has no immediate plans to review its price cap on Russian oil, with the last review having taken place in March of this year.

The recent oil price rally has driven Russian oil above the G7 price cap, with its flagship Urals blend averaging $72 in August.

There were some talks in June or July to do a review, but that review never happened and there are no immediate plans to do another.
Despite the fact that Russia's oil is now trading above the G7 price cap due to the oil rally in recent weeks, the group of the world's top economies and its allies have shelved the regular reviews of the price ceiling, Reuters reported on Wednesday, quoting sources familiar with the matter.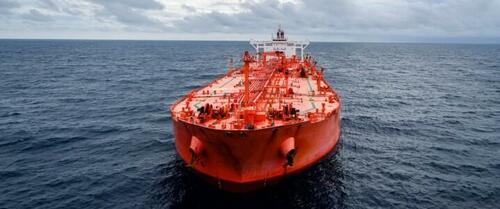 At the end of last year, G7, the EU, and allies including Australia imposed a price cap of $60 for Russia's crude oil if Russian crude shipments to third countries outside the EU are to use Western insurance and financing.
For most of this year, most Russian crude grades – including Urals – have traded below the price cap as international benchmark prices were trading in a narrow range of around $75-$80 per barrel.
However, with recent rises in Brent prices and narrowed discounts of Russian crude oil, Moscow's crude has moved above the price cap.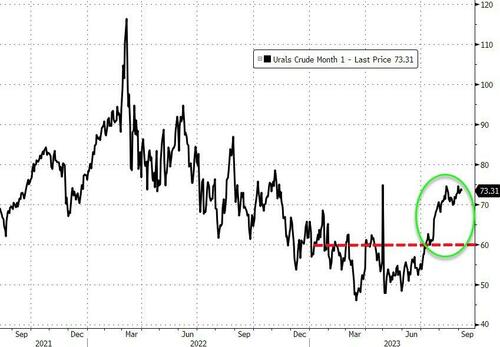 Despite the rise in prices, the G7 group hasn't reviewed the cap since March this year and has no immediate plans to do so, four sources with knowledge of the G7 policies told Reuters.
"There were some talks in June or July to do a review, or at least talk about it, but it never formally happened," a diplomatic source told Reuters.

"The share of tankers covered by the price cap in crude oil shipments out of Russia stayed around 50–55% in July, dropping by around 5% compared to the prior month. For oil products & chemicals, the coverage of the price cap coalition has remained more stable at around 65% in July," the Centre for Research on Energy and Clean Air (CREA) said in its latest monthly snapshot for July.
The price of Russia's flagship crude grade, Urals, averaged $74 per barrel in August, slightly down from August 2022, but way above the G7 price cap of $60 and higher than the July average of $64.37 a barrel, data released by the Russian Finance Ministry showed last week. Between January and August 2023, the average price of Urals was $56.58 per barrel, compared to an average of $82.13 a barrel for the same period of 2022.
[ZH: Perhaps even more entertaining is the Biden administration's insistence that the price cap is working.]
As Bloomberg reports, Eric Van Nostrand, acting Assistant Secretary for Economic Policy said during a Bloomberg TV interview that "nine months into implementation, the cap is working," adding that the policy has reduced Russia's revenue, and any breaches will be looked at by enforcement agencies from the US and allies.
"We don't measure its success just by how many molecules of oil travel under the cap specifically," Van Nostrand said.

"We view it as a market mechanism for changing the oil market's incentives."
The US is happy to see Russia keeping the market well-supplied, and it doesn't want to "disrupt the global oil market in a way that could lead to instability."
None of that sounds like 'success' to us?
Tyler Durden
Wed, 09/06/2023 - 13:45