Judge Orders Texas To Remove Floating 'Border Buoys' By Next Friday In Win For Biden DOJ
September 7, 2023 | Tags: ZEROHEDGE
Judge Orders Texas To Remove Floating 'Border Buoys' By Next Friday In Win For Biden DOJ
A federal judge on Wednesday ordered Texas to remove floating border buoys along its border river with Mexico designed to deter migrants from crossing.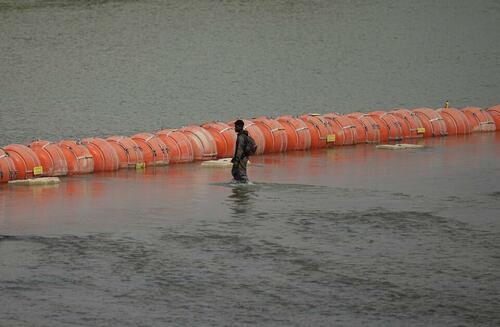 Citing a 'threat to human life,' and 'safe navigation,' US District Judge David A. Ezra ruled that the buoys likely require congressional authorization and a federal permit based on the Rivers and Harbors Appropriation Act of 1899.
"The Court finds that the barrier's threat to human life, its impairment to free and safe navigation, and its contraindication to the balance of priorities Congress struck in the RHA outweigh Texas's interest in implementing its buoy barrier in the Rio Grande River," reads Ezra's ruling, which granted the Biden administration's request for a preliminary injunction against the state-installed buoys.
The floating barrier, constructed in an attempt to obstruct movement across the river, is made up of roughly 1,000 feet of 4-foot spherical buoys connected by heavy metal cables, according to discussion in the court ruling. Roughly half of the barrier also contains an "anti-dive net" below it.

The placement of the buoys had caused an uproar from the state's congressional Democrats and human rights advocates, who maintained that they presented life-threatening risks to migrants who were crossing the river to seek asylum. In early August, Texas state troopers found a dead body lodged in the buoys. The Mexican government also criticized the buoys, saying that they violated international water rights. -Politico
"The harm to navigation is clearly evident from the evidence presented, while the State of Texas did not present any credible evidence that the buoy barrier as installed has significantly curtailed illegal immigration across the Rio Grande River," Ezra wrote.
In response, the Biden DOJ praised the decision.
"We are pleased that the court ruled that the barrier was unlawful and irreparably harms diplomatic relations, public safety, navigation, and the operations of federal agency officials in and around the Rio Grande," according to Associate AG Vanita Gupta.
The decision to deploy the buoys was fully supported by Texas Gov. Greg Abbott in early July, which he said had possibly deterred thousands of illegals from crossing. In response, the DOJ sued the state, arguing that it had obstructed the waters.
Lawyers for the state hit back in a Wednesday filing to appeal the ruling, while the Governor's office said: "Today's court decision merely prolongs President Biden's willful refusal to acknowledge that Texas is rightfully stepping up to do the job that he should have been doing all along," adding "Our battle to defend Texas' sovereign authority to protect lives from the chaos caused by President Biden's open border policies has only begun. Texas is prepared to take this fight all the way to the U.S. Supreme Court."
Tyler Durden
Thu, 09/07/2023 - 14:00