'Day Of Reckoning Arrives' For Chevron As Australian LNG Workers Begin Strikes
September 8, 2023 | Tags: ZEROHEDGE
'Day Of Reckoning Arrives' For Chevron As Australian LNG Workers Begin Strikes
Unionized employees at Chevron Corp.'s liquefied natural gas plants in Australia began partial strikes on Friday after talks about a new labor contract failed to materialize. 
Bloomberg reported Offshore Alliance, which includes the Australian Workers Union and Maritime Union of Australia, began partial work stoppages around 1300 local time across the Gorgon and Wheatstone plants and the Wheatstone offshore platform in Western Australia. Last year, the three facilities accounted for 7% of the world's LNG production.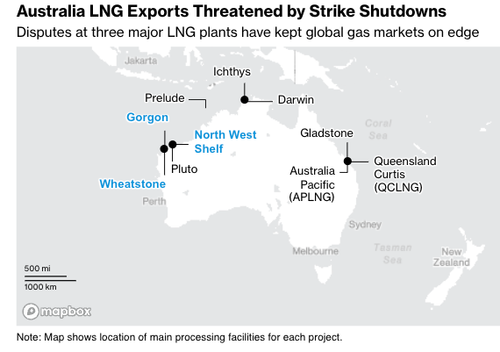 Workers plan 20 different types of labor actions at the plants until mid-next week when full-blown strikes could start as early as Thursday.
"Despite the Offshore Alliance giving Chevron plenty of opportunity to sort out EBA's across the 3 Chevron facilities, they will finally be facing their day of reckoning. Protected Industrial Action commences at 13:00 today," Offshore Alliance wrote in a Facebook post. 
The alliance said, "Chevron are demanding they be given special concessions in bargaining – a demand which we have put through the shredding machine," adding, "Their bargaining performance has been the most inept effort of any employer the Union has dealt with in the past 5 years and our members have had enough." 
The unions concluded: "It's game on, Chevron."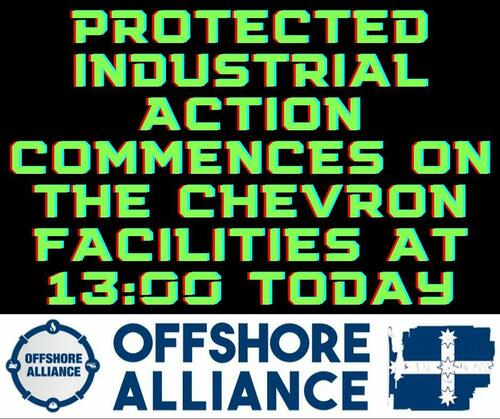 A Chevron spokesperson told the Australian Financial Review it would "continue to take steps to maintain safe and reliable operations in the event of disruption at our facilities." They said, "The unions continue to seek terms that are above and beyond equivalent terms with others in the industry, including in agreements recently reached."
In response to the start of the partial strike, Benchmark EU natural gas futures jumped as much as 11% before paring some of the gains. US NatGas futures are up nearly 2%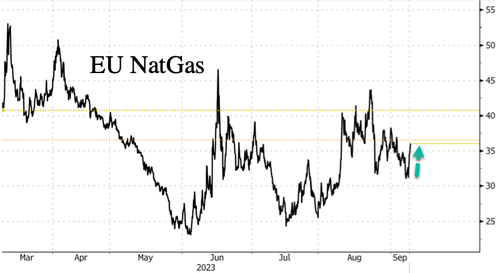 Friday's strikes "appear lower level, designed to create costs and inefficiencies for Chevron, but not yet impact production materially," Saul Kavonic, an energy analyst at Credit Suisse Group AG, wrote in a note to clients. 
"This is part of the unions ratcheting up the pressure on Chevron to make more compromises, and is all part of the negotiation 'dance' between the parties. 

"If there is still little progress over the next week, then the situation could escalate to more serious consequences."
Kavonic warned a complete shutdown of the LNG plants "simply cannot occur for long" as it would spark an energy crisis in Western Australia that would likely force the government to intervene. 
The good news is that Europe's NatGas storage is approximately 93% full, surpassing the typical seasonal averages. However, the downside is that Europe has reduced its dependence on cheap NatGas from Russia and now sources from global markets, exposing it to potential price volatility. 
Tyler Durden
Fri, 09/08/2023 - 06:55