Southwest Airlines Finds Bogus Parts On 737 Jet
September 10, 2023 | Tags: ZEROHEDGE
Southwest Airlines Finds Bogus Parts On 737 Jet
Weeks after European aviation authorities flagged a London-based firm for supplying "unapproved parts" for jet engines on older Airbus SE A320s and Boeing Co. 737s, Southwest Airlines has confirmed to Bloomberg that one of these parts ended up on a 737. 
Southwest told Bloomberg in an emailed statement that bogus low-pressure turbine blades from AOG Technics were found on one of its Boeing 737 NG. The part was immediately replaced, the airline said.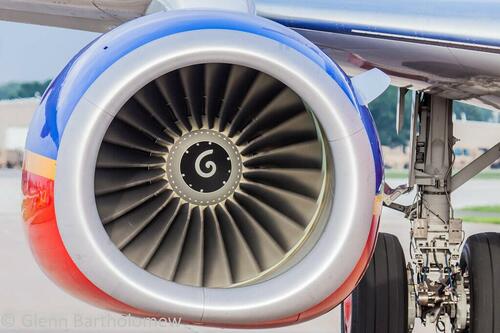 The part scandal spread across the Atlantic after the European Union Aviation Safety Agency said earlier this month, "Numerous Authorised Release Certificates for parts supplied via AOG Technics have been forged." 
AOG sold bogus parts for CFM56 engines, the world's best-selling turbine, to repair shops servicing Airbus SE A320s and Boeing Co. 737s. Some of these older jets are used by budget airlines. 
According to Bloomberg, CFM International, the GE-Safran manufacturing venture of the engine, "found 78 documents they say are falsified and which cover 52 CFM56 engine part numbers, along with two faked records for CF6 components." 
AOG began operations in 2015 in the UK and has supplied an unknown amount of CFM56 parts with fake certification to the global parts market. CFM and GE noted that no engine issue incidents have been traced back to AOG's parts. 
It may be time to ask other US airline carriers if they also used bogus AOG parts in their engines... 
Tyler Durden
Sun, 09/10/2023 - 21:00