Sam Bankman-Fried's Lawyers Request Pre-Trial Release Citing Poor Internet Access
September 11, 2023 | Tags: ZEROHEDGE
Sam Bankman-Fried's Lawyers Request Pre-Trial Release Citing Poor Internet Access
Authored by Prashant Jha via CoinTelegraph.com,
Former FTX CEO Sam Bankman-Fried's bail was revoked on Aug. 11 after he was found to be trying to contact witnesses in the case and malign witness credibility...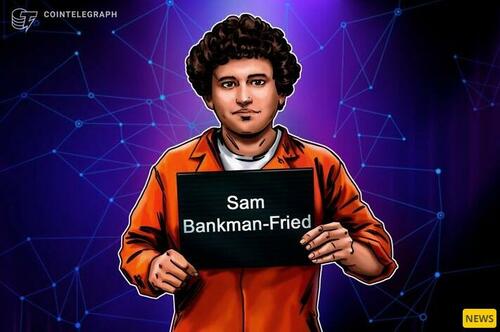 Former FTX CEO Sam "SBF" Bankman Fried's lawyers have requested a pre-trial release, citing a lack of adequate internet connectivity in the federal jail. SBF's legal team argued that a poor internet connection is a hindrance in their defense preparation and leads to a loss of time.
The court filing dated Sept. 8 was the second such request for pre-trial release within the last week and came after the appellate judge denied SBF's request for immediate release from jail on Sept. 6. The judge then referred the motion to the next three-judge panel.
SBF's legal team argued that despite government assurance that their client would have access to a laptop on weekdays from 8 am until 7 pm, those promises haven't materialized.
The lawyers also cited several instances where SBF's access to an internet laptop was cut short due to jail proceedings.
The first instance was on Sept. 1, when Bankman-Fried was called back to his cell at 2:30 pm for a headcount, costing him four hours of preparation. In a second instance on Sept. 6, SBF wasn't released from his cell until 11:00 am. When Bankman-Fried tried to access the discovery database, the poor internet connection allowed only one document from the database to be reviewed.
The legal team noted in its filing:
"Despite the Government's efforts, there does not appear to be a way to solve the internet access problem in the cellblock. That means that Mr. Bankman-Fried has no way to review and search documents in the discovery database or the AWS database before the trial. The defendant cannot prepare for trial with these kinds of limitations."
After his arrest in the Bahamas on Dec. 12 last year, SBF was released on a $250-million bond, following which he spent the majority of his time confined to his parents' California home.
However, his bail was revoked on Aug. 11 after he was found to be trying to contact and intimidate former FTX executives and witnesses in the lawsuit.
Since then, Bankman-Fried's legal team has filed multiple appeals to request a pre-trial release; however, the judges reviewing these motions have argued he has violated bail conditions on several occasions, and thus, an immediate release cannot be granted.
Tyler Durden
Mon, 09/11/2023 - 11:45