Money-Market Inflows Hit New High As Banks Demand More From Fed's Emergency Fund
September 14, 2023 | Tags: ZEROHEDGE
Money-Market Inflows Hit New High As Banks Demand More From Fed's Emergency Fund
Another week, another big inflow into money-market funds (of $17.7BN), pushing total assets to a new record high of$5.642TN. That is the 8th weekly inflow of the last 9 weeks...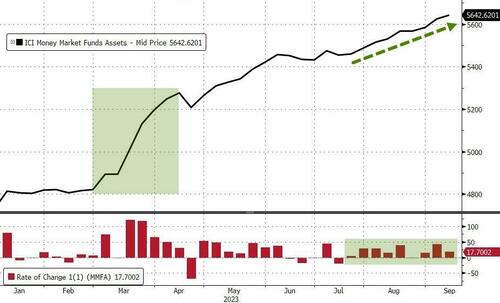 Source: Bloomberg
Once again the inflows were dominated by Retail (which haven't seen an outflow since April) while institutional fund assets rose for the 3rd straight week...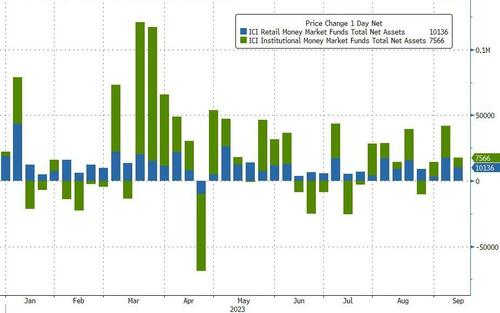 Source: Bloomberg
Despite last week's bank deposit outflow, the gap to money-market fund assets remains vast...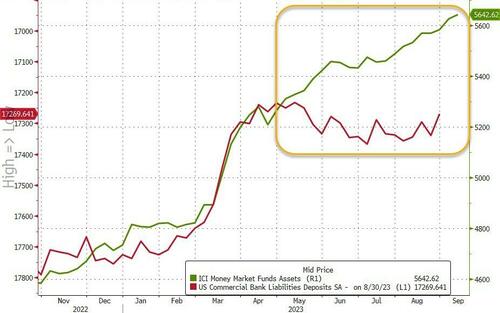 Source: Bloomberg
The Fed's balance sheet shrank only marginally last week (-$2.5BN)...
Source: Bloomberg
Interestingly, with regard the QT program, The Fed sold $6BN of securities last week (bigger than the decline in the Fed balance sheet)...
Source: Bloomberg
Usage of The Fed's emergency bank funding facility rose once again (+$208M) to a new record high over $108BN...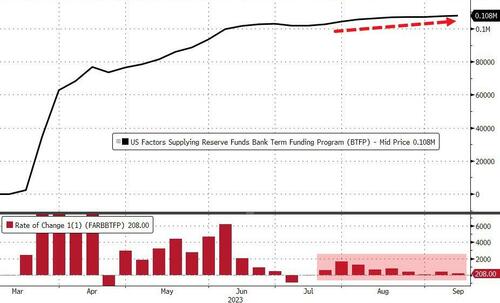 Source: Bloomberg
Here is the detailed breakdown:
QT shrinks TSY holdings by $6BN to $4.982TN

Discount Window borrowings rise $0.6BN to $2.7BN

BTFP usage hits record high $108BN

Other credit extensions (FDIC loans) down $0.4BN to $133.4BN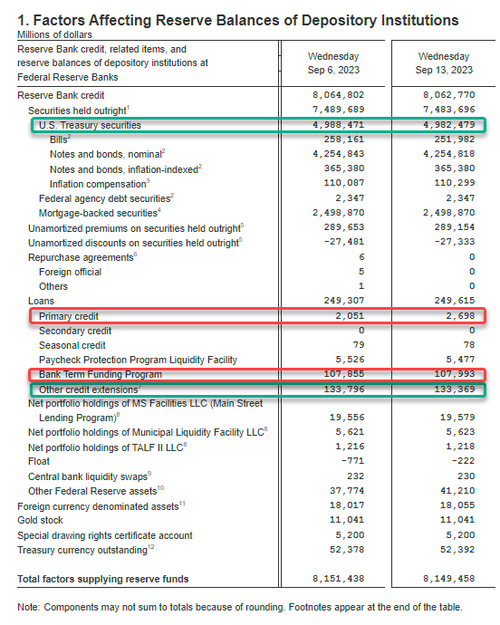 The gap between bank reserves at The Fed and the US equity market cap is starting to narrow...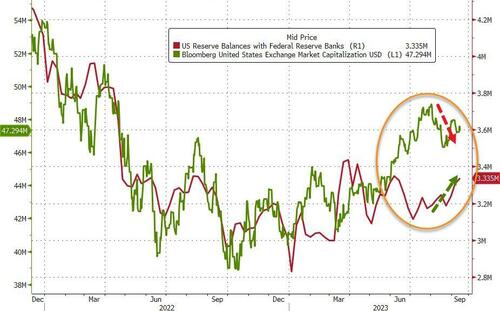 Source: Bloomberg
Tick, tock, banks!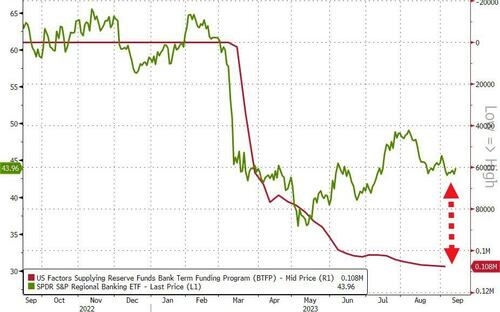 Source: Bloomberg
You have six months to figure out how to clean up the $108 Billion hole in your balance sheet that you're currently paying The Fed's exorbitant rates to fill.
Tyler Durden
Thu, 09/14/2023 - 16:40