European Elites' Dream Of Power Crumbles As Security Threats From Russia, Africa, & The Mid-East Grow
September 17, 2023 | Tags: ZEROHEDGE
European Elites' Dream Of Power Crumbles As Security Threats From Russia, Africa, & The Mid-East Grow
Authored by Marek Cichocki via Remix News,
For a long time, the major capitals of Western Europe dreamed their beautiful dream about how the EU, as a power, would become an increasingly important actor in building security policy after the end of the Cold War. In this dream, Great Britain was supposed to be the European anchor in transatlantic relations with America.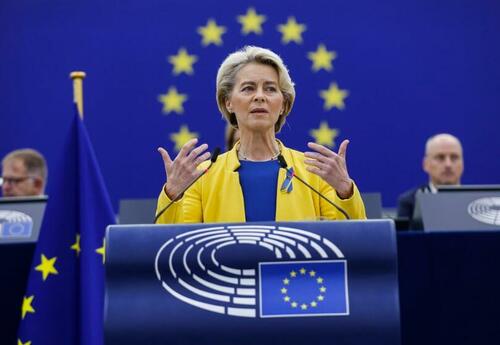 Somewhere at the turn of the first and second decade of the 21st century, French President Nicolas Sarkozy and German Chancellor Angela Merkel established a key division of labor between themselves. According to this, Paris was responsible for the security of the Mediterranean basin and West Africa, while Germany, due to its relations with Russia, was supposed to "take care" of the security of Eastern Europe and the Black Sea basin.
However, recent years have shown the complete failure of these plans. One by one, elements of the beautiful dream of power fell apart.
Brexit ejected Great Britain from the orbit of European integration. With Russia's invasion of Ukraine, Germany's Eastern policy collapsed. The disastrous intervention in Libya, followed by subsequent military coups in Mali, Burkina Faso, and Niger, as well as the entrenchment of Russian mercenaries from the Wagner Group there, clearly indicate that French leadership in European security policy toward Africa has ended in complete disaster for the time being.
One might think that all these events would be enough for the European elite to realize the need to abandon dreams and return to reality.
However, the only reaction to the geopolitical crisis in Europe is the proposal to establish majority decisions in the area of the EU's foreign and security policy, which de facto means accepting the dominance of Paris and Berlin.
The current situation, however, requires a fundamental change in Europe's thinking and action. Some time ago, there was an idea circulating to create a European Security Council by EU countries.
Perhaps it is worth returning to it, provided it would establish a mechanism based on the real military resources of states and their competencies in the field of international policy. The current way of thinking about Europe's security policy is still, unfortunately, some kind of mirage growing out of the old imperial and colonial ambitions of powers.
It ignores the growing potential of Central and Eastern European countries, mainly Poland, but also the Baltic and Scandinavian states. Above all, however, it has proven to be completely ineffective.
Tyler Durden
Mon, 09/18/2023 - 02:00