Azerbaijan Launches Major 'Ground Operation' In Karabakh Against Armenians
September 19, 2023 | Tags: ZEROHEDGE
Azerbaijan Launches Major 'Ground Operation' In Karabakh Against Armenians
Azerbaijan's military has attacked areas of Nagorno-Karabakh under Armenian control in a major action which shatters the unsteady regional peace in a significant first since the 2020 war which lasted for six weeks.
Karabakh representatives have said a "large-scale military offensive" is targeting Armenian holdouts, and have accused Azeri forces of having "violated the ceasefire along the entire line of contact with missile-artillery strikes."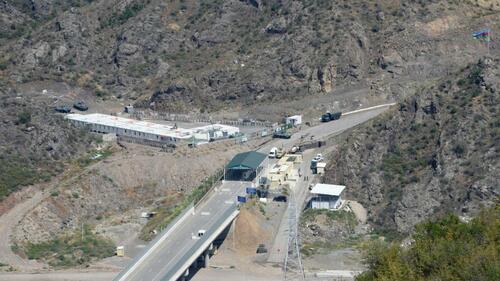 But Azerbaijan's defense ministry has blamed Armenian forces for provocations, citing "systematic shelling" of Azeri army positions. Baku has dubbed this an operation against "local, anti-terrorist activities... to disarm and secure the withdrawal of formations of Armenia's armed forces from our territories."
"Air raid sirens and mortar fire were heard in Karabakh's main city," BBC writes, noting that a fragile ceasefire collapsed especially after "eleven Azerbaijani police and civilians have been reported killed in a mine blast and another incident."
Moscow is monitoring the situation closely, given some 2-3,000 Russian peacekeepers have been in the region as part of the post-war settlement that emerged after 2020. But lately Armenian Prime Minister Nikol Pashinyan had complained that Russian forces were "spontaneously leaving the region".
Armenia has said that so far the fighting has not spilled over into its own borders, saying that within the borders things are "relatively stable". 
BREAKING:

Azeri missile strike destroys a Tor air defense system in Khankendi.

It looks more and more like full-scale war is breaking out in Nagorno-Karabakh.pic.twitter.com/kbVkMj6vU1

— Visegrád 24 (@visegrad24) September 19, 2023
As for the rising casualty count on the Armenian side in Nagorno-Karabakh, the following has been cited:
The Nagorno-Karabakh separatist Human Rights Ombudsman said two people died, including one child, after Azerbaijan launched a military offensive in the region.

It also said at least 11 people have been injured.
The United Nations is likely to address the flare-up in new violence, given the general assembly is currently underway in New York. Armenian Prime Minister Nikol Pashinyan is urging an emergency meeting of the UN Security Council.
Video purportedly from Stepanakert in Karabakh - sounds of fighting and loitering munitions above #Azerbaijan, #Armenia (via @marutvanian) pic.twitter.com/Kwcxrsd2ww

— Michael A. Horowitz (@michaelh992) September 19, 2023
Armenia is also calling on its powerful ally in the Collective Security Treaty Organization (CSTO), Russia, to take action. But Moscow, despite long having a military base in Armenia, has for years been reluctant to get more deeply involved, and especially now is absorbed by the war in Ukraine.
Pashinyan has called for "clear and unambiguous steps to end Azerbaijani aggression." 
Shelling of civilian objects in Stepanakert.

📹: @araratpetrosian pic.twitter.com/Cb4wr2FiPD

— 301🇦🇲 (@301arm) September 19, 2023
Azerbaijan has stood accused of seeking to conduct a slow genocide of ethnic Armenians in the Nagorno-Karabakh region by cutting off food, medicine, and humanitarian aid. 
One regional journalist, Paul Antonopoulos, has written that "After starving Armenians in Nagorno-Karabakh for 9 months, Azerbaijan launched another vicious attack to terrorize the indigenous population."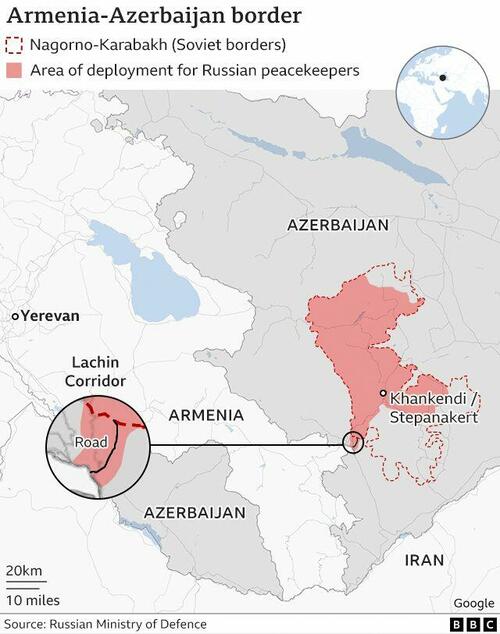 There has been sporadic flare-ups in cross-border shooting going back to 2020 and 2021. Before that, the conflict hearkened back to post-Soviet times.
Christian Armenia and Muslim Azerbaijan fought a war at that time in which at least 200 people were killed over Armenian ethnic breakaway Nagorno Karabakh, which declared independence in 1991, despite being internationally recognized as within Azerbaijan territory.
Azerbaijan is shelling civilian residential areas of #Stepanakert This is a building next to us with no military target in vicinity. pic.twitter.com/EZtJsAEBNg

— Siranush Sargsyan (@SiranushSargsy1) September 19, 2023
The first war for the territory finished in 1994, but the region has been militarized since, amid sporadic shelling. Turkey has tended to be Azerbaijan's most powerful supporter, also given Azeris are ethnic Turks. Israel has also supplied Baku with advanced military equipment, especially drones.
Tyler Durden
Tue, 09/19/2023 - 09:55