India Rejects Trudeau's "Absurd" Accusations It Assassinated Canadian Citizen, Expels Diplomat In Tit-For-Tat
September 19, 2023 | Tags: ZEROHEDGE
India Rejects Trudeau's "Absurd" Accusations It Assassinated Canadian Citizen, Expels Diplomat In Tit-For-Tat
India is remaining defiant and has refused to acknowledge Canadian Prime Minister Justin Trudeau's shock accusation that Indian intelligence assassinated a Canadian citizen on Canadian soil. Trudeau on Monday told lawmakers there is "credible" intelligence pointing to "agents of the government of India" as being behind the June murder of a prominent Sikh leader named Hardeep Singh Nijjar near Vancouver - shot dead outside a Sikh temple in Surrey, British Columbia. He was a prominent leader in the Sikh Khalistan independence movement, and thus the Indian government labeled him a "terrorist". 
Canada on Monday expelled an Indian diplomat who is a known intelligence official, but on Tuesday India in tit-for-tat fashion expelled a senior Canadian diplomat from its territory. India's Ministry of External Affairs cited Canadian "interference" in India's sovereign matters. "The decision reflects Government of India's growing concern at the interference of Canadian diplomats in our internal matters and their involvement in anti-India activities," the ministry said in a statement.
The Indian government has condemned and rejected allegations, calling them "absurd" and politically motivated. Further, New Delhi has suggested Canadian officials are running cover for 'terrorists' that are engaged in Sikh separatist activities. Canada has a huge Indian and Sikh population.
All of this reflects the already long simmering tensions between the two countries:
A number of individuals designated as terrorists by India's National Investigative Agency continue to call for India's break-up in Canada. Since 2020, self-proclaimed "referendums" that call for the break-up of the Indian state of Punjab from the Union of India have been occurring despite India asserting strong diplomatic offences. 

"The inaction of the Canadian Government on this matter has been a long-standing and continuing concern," India's foreign ministry said.
Trudeau had in his televised announcement before the House of Commons asserted that "Any involvement of a foreign government in the killing of a Canadian citizen on Canadian soil is an unacceptable violation of our sovereignty." Some pro-Indian commentators and media are questioning whether Nijjar is a Canadian citizen at all.
Here's more of the full Indian statement responding to Trudeau:
"We have seen and reject the statement of the Canadian Prime Minister in their Parliament, as also the statement by their Foreign Minister. Allegations of Government of India's involvement in any act of violence in Canada are absurd and motivated," India's foreign ministry said.

"Similar allegations were made by the Canadian Prime Minister to our Prime Minister, and were completely rejected," the Indian foreign ministry added. Canadian PM Trudeau told his country's parliament that he had taken up the purported matter of alleged Indian hand in Hardeep Singh Nijjar's killing "directly" with his Indian counterpart during the G20 summit in Delhi earlier this month.
New: Weeks ago, Canada began pushing its closest allies, the Five Eyes, to make a joint statement about Nijjar's killing, possibly at the G20. Countries including the US deferred, fearing angering India and spoiling its coming-out party
w @karishma__m__ https://t.co/eokAn5uUVa

— Gerry Shih (@gerryshih) September 19, 2023
Indeed Trudeau had told parliament that he had directly informed PM Modi of his intelligence service's findings related to Nijjar's murder.
But given India has focused much of its angry reaction on denouncing the Canadian government for being 'weak' on terrorism, it's increasingly looking like Indian intelligence was indeed likely behind or at least had knowledge of the assassination. After all, Nijjar was a top wanted man in India, and there was even a reward for his apprehension. 
"That Canadian political figures have openly expressed sympathy for such elements remains a matter of deep concern," India's foreign ministry continued. "The space given in Canada to a range of illegal activities, including murders, human trafficking and organised crime is not new. We reject any attempts to connect the Government of India to such developments. We urge the Government of Canada to take prompt and effective legal action against all anti-India elements operating from their soil."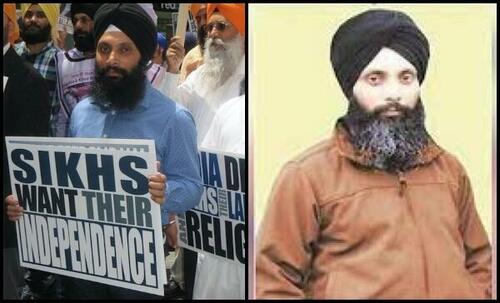 This sheds some light on negative events which happened at the end of Trudeau's G20 trip, as Reuters recounts:
Trudeau was seen as the most snubbed leader during the G20 summit in Delhi, away from media's attention and geo-economic significance, as he chose to skip official dinners and made it a point to attend the formal business of the summit only. As Trudeau was to leave Delhi, his official plane developed a technical malfunction and he had to stay back in India for nearly two days, and denied the Indian offer to take the service of an Indian Air India One plane instead.  
The stunning and unprecedented moment of such a severe accusation as a political assassination on foreign soil, and the tit-for-tat expelling of diplomats is likely to send already tension-filled India-Canadian ties falling off a cliff.
Wow.

Washington Post reports that Justin Trudeau tried to get his western allies, USA, Australia etc., to issue a joint statement against India on Hardeep Singh Nijjar but everyone, including USA, refused to take Canada's side fearing a diplomatic backlash from the Modi Govt. pic.twitter.com/lzu2gLzpYJ

— Sensei Kraken Zero (@YearOfTheKraken) September 19, 2023
There's also the possibility the whole row could push India further away from the West when it comes to the Ukraine war, and into closer trade and economic cooperation with Russia and China.
Tyler Durden
Tue, 09/19/2023 - 17:45