Police Threaten To Arrest 11-Year-Old Victim of Child Porn
September 19, 2023 | Tags: children, REASON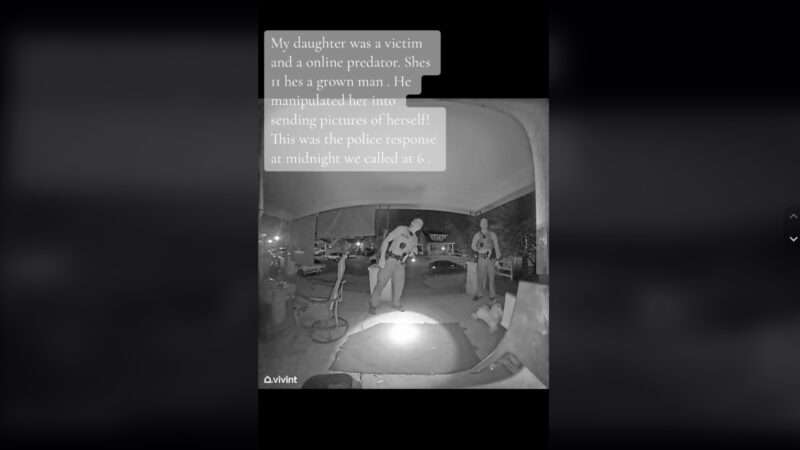 Columbus, Ohio, authorities are investigating two police officers who casually discussed charging an 11-year-old girl with manufacturing child porn. The girl in question had allegedly sent inappropriate photos of herself to a much older man, prompting her father to call the police.
"Sexual Assault Unit detectives were immediately notified of the incident and have since initiated an investigation," said the Columbus Department of the Inspector General in a statement, according to The Columbus Dispatch.
The interaction between the police officers and the girl's father was captured by a doorbell camera and posted to TikTok. The account that posted the video on TikTok did not respond to a request for comment.
In the video, the police arrive at the girl's house at about midnight, according to the father, who complains that he called them many hours earlier. The father steps outside the door and explains the situation: His 11-year-old daughter sent pictures of herself to an adult man. He suggests that he wanted the police to convey the seriousness of the situation to her, though she has already gone to bed.
"I just want her to realize what this was," says the father. "I mean, reality is not much I probably can do about it, is there?"
One of the police officers responds: "I mean, she can probably get charged with child porn."
The father is taken aback, and clarifies that he believes his daughter is the victim, not the perpetrator.
"Doesn't matter," says the officer. "She's still making porn."
At that point, the father—quite wisely—tells the officers to have a good night and shuts the door in their faces.
The viral video created understandable outrage on social media, which has prompted the authorities to investigate their own response. Most people do not think an 11-year-old girl who has produced pornographic images of herself should be arrested for it.
An adult male coercing a child into sending sexual images is absolutely engaging in criminal activity, and if that's what happened here, it should be dealt with. It's not at all encouraging that the police seemed to have the situation backward.
Nevertheless, state laws criminalizing child pornography often fail to make this important distinction. Indeed, underage teenagers are often charged for consensually swapping sexts. Overzealous police have a habit of making things worse rather than better.
The post Police Threaten To Arrest 11-Year-Old Victim of Child Porn appeared first on Reason.com.