Spending Other People's Money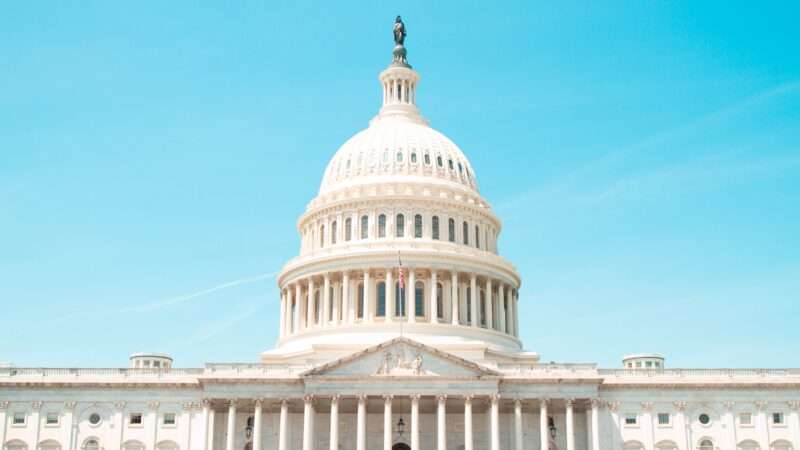 National debt exceeds $33 trillion, but no one seems to care. With a government shutdown possibly happening sometime over the next two weeks if there's no spending deal in Congress, the U.S. national debt has quietly slipped past the $33 trillion mark for the first time. It is on track to exceed $50 trillion by the decade's end. "The increase in debt over the last 20 years was overwhelmingly driven by the trillions spent on Republican tax cuts skewed to the wealthy and big corporations," a White House spokesperson told The New York Times. 
But this wholly ignores Democrats' massive spending, which they say will have no dire consequences (ever!). The Inflation Reduction Act, for example, was estimated to cost $400 million but will cost something more like $1 trillion. It also does lots of things that are not inflation-reducing at all, not even if you squint. As Reason's Eric Boehm has argued, it's basically "a pared-down version of what Biden originally pitched as the 'Build Back Better' plan—it leaves aside much of the original bill's spending, but it maintains a huge corporate tax increase, huge spending on green energy initiatives, and a plan to swell the ranks of IRS agents." Some pandemic relief programs promoted by Democrats have either been wasteful or plagued by fraud, like the Employee Retention Credit ("The I.R.S. is freezing the program because of fears about fraud and abuse," reports the Times) and the Paycheck Protection Program, which Reason has covered extensively.
Setting the blame game aside, there are massive implications that could stem from this addiction to spending. In the future, rising debt levels could make it harder for businesses to borrow money, kneecapping growth; rising debt could also mean massive inflation—even worse than what we've been contending with.
"This town is addicted to spending other people's money," commented Rep. Eli Crane (R–Ariz.) on X. "Enough is enough."
Zelenskyy cleans house. Six of Ukraine's top defense ministers were fired by President Volodymyr Zelenskyy yesterday ahead of his visit to Washington, D.C., and to New York, where he will address the United Nations. Roiled by reports of corruption, some have speculated that Zelenskyy needs to get his house in order before he makes big asks for U.S. aid, but no official reasoning for the defense ministry shakeup has been given. Defense Chief Oleksii Reznikov was axed by Zelenskyy earlier this month.
In other news, Ukraine has recaptured the village of Klishchiivka, near Bakhmut, which is Zelenskyy's "second significant gain in three days in [Ukraine's] grueling counteroffensive against the Russian army," per Reuters.
What's going on with the child poverty rate? "The poverty rate rose to 12.4 percent in 2022 from 7.8 percent in 2021, the largest one-year jump on record," reported The New York Times last week after the release of new Census Bureau data. "Poverty among children more than doubled, to 12.4 percent, from a record low of 5.2 percent the year before." 
But it's a bit thornier than that. Poverty in America is measured in two ways: via the Official Poverty Measure (OPM), which uses cash and cash-like government benefits (welfare and unemployment checks), and the Supplemental Poverty Measure (SPM), which factors in food stamps and tax credits. Depending on which measure you look at, you'll get a different sense of how dire (or not) the situation is. For example, stimulus checks, expanded food stamp benefits, and expanded child tax credits were counted only under the SPM (not the OPM). When they expired last year, the poverty rate (as counted by the SPM) rose. "The decline in the child poverty rate between 2021 and 2022 under the OPM was statistically insignificant," according to Matt Weidinger and Scott Winship at the American Enterprise Institute. "Because the undercounting of UI [unemployment insurance] benefits made the 2021 official rate too high, it's likely that a better-measured version would have shown an increase this year."
Besides, "there have been only three years with a lower child poverty rate in US history—2019, 1973, and 1969." And, "had inflation—partly caused by massive spending in 2021—been lower, the OPM might have reached an all-time low." Things are, by and large, getting better all the time.
---
Scenes from New York:
VIDEO THREAD: This morning in New York City, climate activists blockaded the entrances to the NY Federal Reserve.

NYPD quickly issued a warning over an LRAD and began arresting activists one by one.

"We need clean air, not another billionaire!" they chanted while refusing to… pic.twitter.com/wCUv16f6af

— Ford Fischer (@FordFischer) September 18, 2023
---
QUICK HITS
The post Spending Other People's Money appeared first on Reason.com.