The Feds Sue New York Landlords for Not Allowing a Tenant's Emotional Support Cat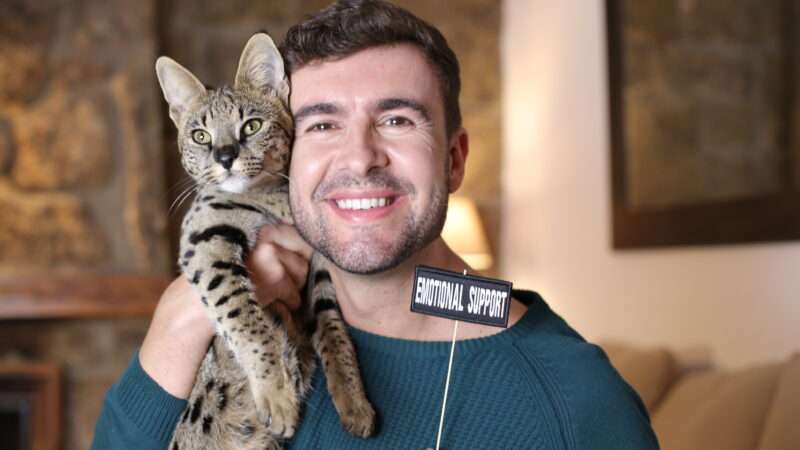 Federal housing officials are charging a pair of New York landlords with violating fair housing law for making no exceptions for emotional support animals in their "no pets" policy.
On Monday, the U.S. Department of Housing and Urban Development (HUD) announced it had filed a complaint against Ronit and Voyl "Tom" Mecham—owners of a two-unit rental property in Jamestown, New York—for denying a tenant's requests to keep a cat on the premises.
The Mecham's tenant, whose name is redacted in the complaint, had requested in November 2021 that they be allowed to have the cat as part of the treatment they were receiving for unspecified mental health issues. The tenant said they would provide a doctor's note justifying the emotional support cat.
In December, Tom Mecham told the tenant—who had been living on the property since February 2021—that they would not allow a cat on the property, but they would allow them to get out of their lease early if they wished to move.
The tenant's subsequent requests for an exemption to the "no pets" policy went unanswered, according to the complaint. Eventually, in May 2022, the tenant went ahead and acquired an emotional support cat anyway.
That didn't appear to cause any immediate issues, as the tenant continued to live at the Mechams' property through August 2022. That month, the tenant informed the property owners that they were moving out.
Only during a move-out inspection did the issue of the cat resurface. According to the complaint, Ronit Mecham told the tenant she should have disclosed her mental health issues before moving in and should have moved out if she wanted a cat.
That comment seems to have been the end of it.
The HUD complaint says the tenant suffered emotional and physical distress as a result of the Mecham's "discriminatory conduct"—but doesn't list any other penalty they suffered.
For HUD, that's nevertheless enough to qualify as illegal disability discrimination under the Fair Housing Act.
"Assistance animals provide people with disabilities the support they need to enjoy the benefits of their housing," said Demetria L. McCain, HUD's principal assistant deputy secretary for fair housing and equal opportunity, in a press release. "HUD is committed to zealously enforcing the Act to protect the rights of individuals with disabilities."
HUD's complaint demands that the Mechams take proactive steps to "remedy the effects of [their] illegal, discriminatory conduct." It also seeks monetary damages to compensate the tenant for the damage they suffered for not getting permission to keep an emotional support cat in their house.
Those monetary damages could be substantial.
In 2021, a New Hampshire landlord agreed to pay $35,000 to settle a fair housing lawsuit brought by the feds over their failure to make an emotional support animal exception to the "no pets" policy at their property.
In 2019, the Meeker Housing Authority, which operates low-income housing in Meeker, Colorado, was forced to pay $1 million after losing a discrimination lawsuit that challenged its policy of charging a pet fee to people looking to keep emotional support animals.
HUD's charge of discrimination was filed on September 15. The Mechams have 20 days from that date to request a civil trial in federal court. If neither they nor their former tenant decide to take that option, the case will be heard by a HUD administrative law judge.
The post The Feds Sue New York Landlords for Not Allowing a Tenant's Emotional Support Cat appeared first on Reason.com.