Weekend Blackout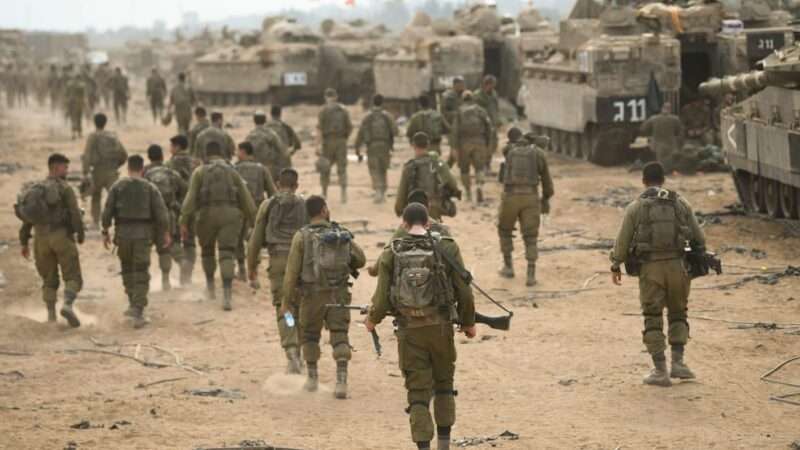 Ground invasion: Over the weekend, Israeli forces entered Gaza, starting the ground invasion they had been preparing for since October 7, when Hamas terrorists entered Israel and killed 1,400, most of whom were innocent civilians. The Israeli army repeatedly told Palestinians in the north that they should evacuate; there was, however, no consistently safe route, and the southern part of Gaza has been repeatedly hit by strikes as well. Israeli forces have also ordered the "immediate" evacuation of Al-Quds Hospital, which aid groups say cannot realistically be evacuated; Gazans now fear a strike on the hospital. The Palestinian death toll now reportedly exceeds 8,000.
And on Friday, as the sun went down, Israel reportedly severed phone and internet connections for the roughly 2 million residents inside the territory (though Israeli government spokespeople have not confirmed that this is the case).
Over the weekend, rescuers no longer had any way to communicate with those who had been injured, so first responders simply started driving toward explosions in an attempt to rescue people who had been hurt. In some cases, "volunteers picked up injured people and drove them to the hospital, notifying teams when they arrived of the location of the airstrike so they could try to save others left behind," per The New York Times. "People in the southern Gaza Strip said they heard the explosions and saw the sky light up but had no means of checking on family and friends in the targeted areas," reports Reuters.
Service was restored yesterday at 4 a.m. But even prior to that, there were some means of circumventing the blackout: Twitter/X was quickly populated with threads explaining how to purchase e-sim cards remotely, with concerned people figuring out ways to get the QR codes to people on the ground in Gaza. X owner Elon Musk also jumped into the fray, claiming that Starlink satellite internet access would be provided to humanitarian aid organizations working in Gaza.
During the blackout and intensified ground invasion, which has killed and wounded hundreds, desperate Palestinians broke into several United Nations warehouses to take food. "This is a worrying sign that civil order is starting to break down after three weeks of war and a tight siege on Gaza," Thomas White, director of the United Nations relief organization in Gaza, told the Times.
Antisemitism abroad: In Makhachkala, Russia, a massive mob rioted at an airport and stormed a plane coming in from Tel Aviv. The rioters were looking for Jews. More than 20 people were injured, 10 were hospitalized, and dozens were arrested. "The riot shocked Jews in Russia and beyond and highlighted the challenges that the Kremlin faces in managing the various parts of its vast multiethnic and multireligious country," says The New York Times.
Elsewhere in the Middle East: Meanwhile, fighting on the northern front—between Hezbollah and Israel—has heated up. The U.S. State Department has warned all Americans currently in Lebanon to "leave now while commercial flights remain available due to the unpredictable security situation."
Over the weekend Israel also launched air raids on Syria, in response to rocket strikes from that country.
---
Scenes from New York:
Loving these (non-Jewish) New Yorkers telling this Hamas supporter off pic.twitter.com/HZGaYKHCPa

— David Shor (@DYShor) October 27, 2023
Appreciate the concise explanation of why it's good to counter speech you hate with more speech. Queens construction workers will save us all.
---
QUICK HITS
I wrote a very personal piece about motherhood—and how the Brooklyn moms around me are way too anxious and neurotic—for The Free Press.
Sen. Joni Ernst (R–Iowa) compares San Francisco's Nancy Pelosi Federal Building to a "haunted house," saying "the conditions are so frightening, federal employees have been warned to stay away indefinitely." As Ernst says: If nobody's really working from there, then "why should taxpayers keep the lights on"?
Mike Pence has dropped out of the presidential race.
Markets in everything: placenta gummy bears edition. (I am horrified.)
"A Chinese fighter jet came within 10 feet of a U.S. Air Force B-52 bomber over the South China Sea" last week "in a nighttime maneuver that nearly caused a collision," reports The New York Times.
"The problem is the human heart, not guns," new House Speaker Mike Johnson (R–La.) told Fox's Sean Hannity following last week's shooting in Maine, in which 18 people were killed. (Plenty to dislike from that interview, too, aside from this sensible nugget.)
One of the best Twitter/X follows:
Imagine that we've achieved an equal distribution of resources. Then a singer begins selling tickets to her events. Lots of people buy them. The singer is now a billionaire and the distribution is no longer equal. Is the new distribution unjust? https://t.co/ppODMEJ0KA

— Chris Freiman (@cafreiman) October 27, 2023
A judge has

ordered

Ivanka Trump to testify in former President Donald Trump's civil trial in New York.

A previous "quick hits" included a New Yorker piece by Clare Malone arguing that comedian Hasan Minhaj has a fabrication problem. Now Minhaj has released a fairly compelling video making the case that The New Yorker improperly spliced quotes and left out crucial parts of his explanations, portraying him dishonestly to readers. If what Minhaj is claiming is true—and he has an awful lot of receipts to prove it—then this is a pretty severe example of journalistic malfeasance.
Pretty bold thing to say with (as far as I can tell) no evidence whatsoever:
.@RonDeSantis predicts there will be a terrorist attack in the U.S. soon that can be 'traced back to the border' during chat with Nevada AG Adam Laxalt on the Vegas strip this morning. pic.twitter.com/RQS3svivUY

— Katelyn Caralle (@Katelyn_Caralle) October 28, 2023
The post Weekend Blackout appeared first on Reason.com.