Berkshire Cash Pile Shows What's Wrong With Effervescent Stocks
November 6, 2023 | Tags: ZEROHEDGE
Berkshire Cash Pile Shows What's Wrong With Effervescent Stocks
By Ven Ram, Bloomberg markets live reporter and strategist
Last week's rally in US stocks, stunning as it was, is as sustainable as a house of cards.
When Warren Buffett's Berkshire Hathaway raises its cash pile by a staggering 22%+, you got to wonder what the stock markets see that one of the greatest investors of all time can't. The conglomerate's holdings of short-term investments via US T-bills surged some 36%, a classic view that cash and near-cash instruments are Berkshire's best bet when nearing an inflection point in the economy.
In contrast, the increase in equity investments rose by a mere 3%, while net sales of equities extended for a 4th consecutive quarter.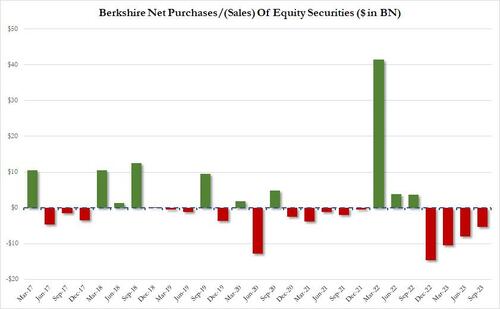 For some time now, stocks have been trading in a heads-I-win, tails-you-lose mode — rallying either on the premise that a robust economy will boost earnings or a weaker economy will herald rate cuts from the Fed. The Nasdaq 100 surged a stellar 6.5% last week alone, taking its advance this year to almost 40%. At current levels, the index is overvalued by 15% when you look at the index as a bunch of long-duration bonds.
The rally has effectively skewed the risk-reward profile for stocks from here. The prospective earnings yield on the Nasdaq 100 is now just around 3.7%, and the Fed will have to cut rates a long, long way from here for that number to look compelling in comparison.
As Benjamin Graham remarked, investment is most intelligent when it is most businesslike. Just now, it doesn't look that way. If you wanted confirmation, just ask Berkshire.
Tyler Durden
Mon, 11/06/2023 - 10:30