China's Strategic Export Control Upends Rare Earth Markets
November 6, 2023 | Tags: ZEROHEDGE
China's Strategic Export Control Upends Rare Earth Markets
Authored by Haley Zaremba via OilPrice.com,
China's restriction on graphite exports could increase global battery production costs, impacting the electric vehicle industry during a pivotal time in the energy transition.

The U.S. and other nations are reducing reliance on China's rare earth minerals, though China still holds a dominant position in global supply.

In the long term, China's export controls may encourage the development of alternative supply sources, enhancing global energy security and market stability.
China has spent years staking out near-total domination of a laundry list of rare earth minerals with a vital and growing role in clean energy supply chains. The nation has been building up its own domestic wealth of these key primary materials while simultaneously expanding its acquisitions and influence in resource-rich developing nations in Asia, Africa, and Latin America. But now, China is limiting exports of graphite, a key material in electric vehicle batteries as well as other energy industry applications, in a move that will have reverberating implications for the global clean energy sector.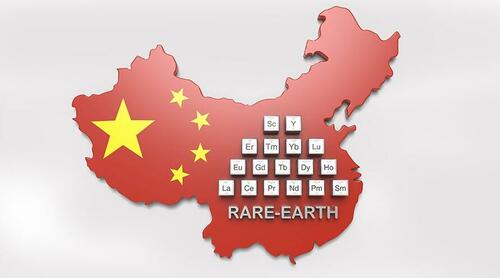 China's laser focus on building up its energy security to meet its near-insatiable demand for new sources of energy and electricity have given it a massive leg up in the clean energy sector on a global scale, as the West has failed to keep pace with Beijing's breakneck investing trends. For years, Beijing has been busily outspending and out-negotiating every other country on the planet. According to figures from a BloombergNEF analysis conducted earlier this year, China was solely responsible for almost half of global spending in the renewable energy sector last year at a whopping $546 billion. That's nearly four times what the United States spent ($141 billion) and 2.5 times what the European Union spent ($180 billion). 
Rare earth mineral markets play a key role in this spending. China is home to 34% of the world's rare earths (with 44 million tonnes of rare earth oxide (ROE) equivalent in reserves), did 70% of global rare earth mining in 2022, and represents at least 85% of global capacity to process rare earth ores into manufacturing materials. Because of this outsized role, global markets have become dangerously reliant on Chinese supply chains in order to meet their own energy and climate goals. This isn't just a China issue – it's also a United States issue. As Foreign Policy recently reported, "America dropped the baton in the rare-earth race." And now that they're trying to catch up after years of under-investment, they're struggling to close the gap.
However the market is changing slightly due to a combination of increased competition, particularly coming from Washington, as well as a shifting strategy on the part of Beijing. While China reported a mammoth amount of rare earth exports last year (48,728 tonnes in 2022) this marked a 0.4% downswing from the previous year. Furthermore, while the U.S. continues to rely on China for the lion's share of its rare earth imports, that dependence is also slightly lessening, from 80% during the period of 2014 to 2017 to 74% between 2018 and 2021.
And now, doubling down on this trend, China is severely restricting graphite imports according to a statement released by China's Ministry of Commerce (MOC) and General Administration of Customs on October 20. The translated statement said it was "optimizing and adjusting temporary export control measures for graphite items" in order to "safeguard national security and interests."
In the immediate term, this means that graphite prices will rise, causing problems for EV battery manufacturers at a critical junction in the global decarbonization transition.
"A curb in the supply of the material originating from an important supplier that is China will increase its price and therefore the cost of production of batteries, particularly for non-Chinese producers," Carole Nakhle, the CEO of consultancy Crystol Energy was recently quoted by Rigzone.

"However, it is that same price signal and the concern of customers about the security of supply that will also encourage the development of alternative supplies, which is desperately needed to support the security of supply for the energy transition," she added.
China is fighting to keep up with its own ever-growing energy demand, and its own energy security interests may continue to tamper with the nation's rare earth exports. This could be a blessing in disguise. While price shocks could cause significant issues in the short term, as the massive and unprecedented deployment of clean energy infrastructure and electric vehicles is necessary and urgent to meet global climate goals, the long-term implications of diversifying global clean energy supply chains are extremely positive. Greater diversity means greater resilience and sustainability of the global economy and shores up global energy security by correcting what is currently an extremely – and dangerously – lopsided market. 
Tyler Durden
Mon, 11/06/2023 - 15:10