Over 100 Faculty Rip Harvard President's Condemnation Of Slogan "From The River To The Sea"
November 16, 2023 | Tags: ZEROHEDGE
Over 100 Faculty Rip Harvard President's Condemnation Of Slogan "From The River To The Sea"
Authored by Dave Huber via TheCollegeFix.com,
On Monday, over 100 Harvard University faculty members signed on to a letter expressing their "profound dismay" over  President Claudine Gay's condemnation of the "pro-Palestine" slogan "from the river to the sea."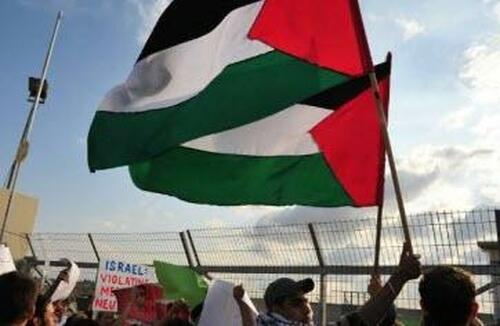 On November 9, Gay wrote in an email that the phrase "bear[s] specific historical meanings that to a great many people imply the eradication of Jews from Israel."
The Crimson reports the faculty letter says "from the river to the sea" has a "long and complicated history," and that Gay's singling out of one meaning is "imprudent as a matter of university policy and badly misjudged as an act of moral leadership."
Apparently referencing the pro-Palestinian letter signed by over 60 Harvard student groups (which blamed Israel for the October 7 Hamas assault), the letter says "At a moment when an affiliate of the University has with apparent impunity stood in the yard and accused students of supporting terrorism, your delineation of the limits of acceptable expression on our campus is dangerously one-sided."
The faculty also say that criticism of Israel "cannot be ruled as ipso facto antisemitic" and they request that Gay direct the new campus advisory group on antisemitism to clearly define the term.
The faculty also asked Gay to resist "calls to set aside the University's normal disciplinary procedures to prematurely sanction students and employees because of concerns raised about their political activity absent specific allegations of wrongdoing" and to reverse sanctions already placed on affiliates "pending a procedurally sound investigation." …

The faculty letter also called on Harvard to "explicitly and specifically" affirm the school's commitment to academic freedom, denounce what they described as a "'Palestinian exception' to free speech," and create an advisory group on "Islamophobia and anti-Palestinian and anti-Arab racism." …

"We are firmly committed to academic freedom for our students — all of them. As should be obvious, this commitment brooks no 'Palestine exception' for students who harshly attack Israel's policies," [said the Council on Academic Freedom's] Edward J. Hall, a Philosophy professor.
Keep in mind that "from the river to the sea," long recognized (even by Democrats) as a slogan which calls for the annihilation of Israel, must be understood as having a "long and complicated history" — yet this is the same Harvard that, among other things, asked students to take down a patriotic Nicki Minaj flag, allowed students in course evaluations to report professors who make them "uncomfortable," and penalized students for participating in single-sex campus organizations (which got the faculty's blessing).
Tyler Durden
Thu, 11/16/2023 - 15:25