My Own Personal Evita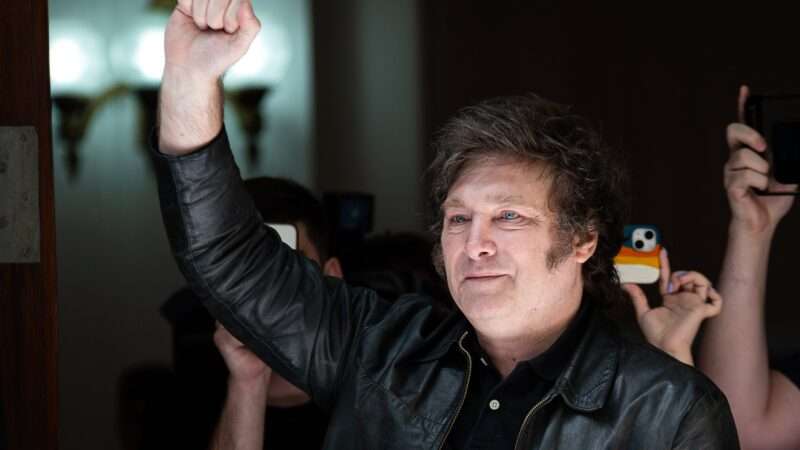 A self-described libertarian just won a presidency. In Argentina, Javier Milei—who proudly describes himself as a classical liberal and an anarcho-capitalist, ran on a libertarian platform, and named his pack of dogs after various free market economists—just beat Sergio Massa, a Peronist, to become president.
In turn, Milei has been described as a "populist" (by CNBC and the Associated Press and Politico), a "far-right outsider" (CNN), a "Trump-like libertarian" (The Washington Post), a "victory for [the] far right" (The New York Times), and, more amusingly, "Wolverine" (The Guardian). Some people have described this as evidence of democracy in peril, as if winning the most votes, after campaigning to convince the electorate of their competence, is somehow an example of an election being rigged. (Sometimes democracy means accepting outcomes you dislike!)
The libertarian "landed some 56% of the vote versus just over 44% for his rival, Peronist Economy Minister Sergio Massa," reports Reuters. It turns out that running for president as the person setting economic policy—in a place crippled by hyperinflation—isn't actually a winning strategy after all.
As recently as April 2020, "$1 bought 80 pesos," reports The New York Times. "This week, $1 bought nearly 1,000 pesos." Milei's platform advocates radical reforms to cure Argentina's fiscal woes. He says he will dollarize the country, shutter the central bank, and force massive spending cuts. In a clip that went viral, he talks about smashing tons of existing government ministries, such as the Ministry of Culture and the Ministry of Women, Genders, and Diversity. He has floated abortion bans and lifting regulations on gun ownership. He says only countries that actively "fight against socialism" should be allies.
He may be thwarted by his relative inexperience, his admitted status as a political outsider, and the fact that he doesn't have a large enough coalition of supporters in government to really pass many of the things he hopes to. His idiosyncratic ways, hardcore rhetoric, and dope sideburns also bolster the perception that he's an atypical politician not looked on kindly by much of the media.
"Today starts the rebuilding of Argentina," Milei said in his victory speech. "There's no room for gradual measures."
Check out the interview Zach Weissmueller and I conducted recently with Argentine political scientist Marcos Falcone on how a Milei presidency could turn Argentina's economic fate around; an interview Weissmueller conducted with Gloria Alvarez and Eduardo Marty on Milei's prospects; the Reason Roundtable episode where Matt Welch, Nick Gillespie, Peter Suderman, and Katherine Mangu-Ward explore the Milei rise; and Daniel Raisbeck's excellent piece on pundits' foolish comparisons between Milei and the Brazilian autocrat Jair Bolsonaro.
THE JAVIER MILEI MUSICAL IS GONNA BE WAY MORE FIRE THAN EVITA. pic.twitter.com/OHxQwBhXVW

— INVESTMENT HULK (@INVESTMENTSHULK) August 18, 2023
Consistently candid: On Friday at noon, OpenAI's board asked CEO Sam Altman to join a meeting. The board of the massively valued company, which makes ChatGPT, fired Altman on the spot. Greg Brockman, OpenAI's president and one of Altman's cofounders, had not been invited to the meeting; he was fired from the board and subsequently resigned from the company.
The board released almost no reasoning for their decision, saying only that Altman "was not consistently candid in his communications with the board, hindering its ability to exercise its responsibilities" and that "the board no longer has confidence in his ability to continue leading OpenAI." Internally, little more was communicated to employees. Chief technology officer Mira Murati was appointed interim CEO, and speculation swirled as to why Altman had been dismissed, why so many top decision makers had been blindsided by this, and what the company's future would look like. (Disclosure: My husband works for OpenAI.)
In the days prior, Altman had been going about business as usual. He'd been widely considered a rising star in Silicon Valley, the subject of attempted hit pieces and lots of lore. After the dismissal by the board—comprised currently of Chief Scientist Ilya Sutskever, Quora CEO Adam D'Angelo, GeoSim Systems CEO Tasha McCauley, and Georgetown's Helen Toner, who directs strategy and grants at the school's Center for Security and Emerging Technology—it became clear that investors, employees, and a hefty chunk of leadership did not support the decision.
Murati and others started attempting to get Altman to come back:
first and last time i ever wear one of these pic.twitter.com/u3iKwyWj0a

— Sam Altman (@sama) November 19, 2023
Late last night, this move was swatted away. Murati was dismissed and replaced by new CEO Emmett Shear (formerly of Twitch), and Altman was hired by Microsoft, which has invested $13 billion in OpenAI.
Shear is not widely regarded as a competent pick, and the middle-of-the-night move is being cited as more evidence that the board does not know what it's doing:
He does video streaming ffs

— Kara Swisher (@karaswisher) November 20, 2023
So, here's what happened at OpenAI tonight. Mira planned to hire Sam and Greg back. She turned Team Sam over past couple of days. Idea was to force board to fire everyone, which they figured the board would not do. Board went into total silence. Found their own CEO Emmett Shear

— Ashlee Vance (@ashleevance) November 20, 2023
Shear is widely seen as a decel—that is, someone who wants to slow down the rate of progress in artificial intelligence:
Hmmmm but I am actually in favor of a pause? Or rather, I'm in favor of a slowdown. We can't learn how to build a safe AI without experimenting, and we can't experiment without progress, but we probably shouldn't be barreling ahead at max speed either.

— Emmett Shear (@eshear) September 16, 2023
I specifically say I'm in favor of slowing down, which is sort of like pausing except it's slowing down.
If we're at a speed of 10 right now, a pause is reducing to 0. I think we should aim for a 1-2 instead.

— Emmett Shear (@eshear) September 16, 2023
Why did this happen? "The board did *not* remove Sam over any specific disagreement on safety, their reasoning was completely different from that," wrote Emmett Shear on X. The board has released no additional reasoning about what Altman might have done to warrant this treatment.
The employees at OpenAI just lost billions of dollars in secondary share sales that were about to happen at a $90b valuation — that's over. Done.

I think OpenAI will lose half their employees, the 12-18 month lead, and 90% of their valuation in 2024.

Just insane value…

— @jason (@Jason) November 20, 2023
Now, Microsoft CEO Satya Nadella has poached Altman and Brockman. Several top developers resigned immediately in the wake of the Altman news:
Microsoft just acquired OpenAI without acquiring OpenAI. And made it fully for-profit without making it fully for-profit. Satya plays 4D Chess.

— Gaurav Munjal (@gauravmunjal) November 20, 2023
Lots of employees are locked out of their computers as of this morning. The company is in complete disarray. And Sutskever, thought to be the main person leading the ouster, just bizarrely tweeted this:
I deeply regret my participation in the board's actions. I never intended to harm OpenAI. I love everything we've built together and I will do everything I can to reunite the company.

— Ilya Sutskever (@ilyasut) November 20, 2023
The vast majority of the employees have signed a letter urging the board to resign and threatening to flee to Microsoft, which has jobs available for them:
Breaking: 550 of 700 employees @OpenAI tell the board to resign. pic.twitter.com/PvIG4lM5cT

— Kara Swisher (@karaswisher) November 20, 2023
In short: Altman was removed via board coup, which the unique governance structure of OpenAI allows, with no reasoning stated. Now there's a mutiny by employees who have lost all faith in the board, and Microsoft is masticating the delicious pieces.
I read the news that Sam Altman is joining Microsoft, and the first thing I thought about is Paul Graham's description of Sam: "You could parachute him into an island full of cannibals and come back in 5 years and he'd be the king."

So basically 5 years until he's CEO? https://t.co/GDTSMoNZTn

— Leo Polovets (@lpolovets) November 20, 2023
---
Scenes from New York:  
In 2008, famed New York City pastry chef Christina Tosi opened up Milk Bar with seed money provided by Momofuku boss David Chang. Now, in 2023, they've finally realized the error in their pie-naming ways:
i hate it here pic.twitter.com/LWH47BcONK

— Mike Solana (@micsolana) November 20, 2023
---
QUICK HITS
The head of our government's AI strategy ….

"who wants to work on tech policy if you actually have to understand how these microscopic things work"

— martin_casado (@martin_casado) November 17, 2023
Our co-founder, former U.S. First Lady Rosalynn Carter, passed away this afternoon in Plains, Georgia.

For more information: https://t.co/82bHoZQvkk pic.twitter.com/2exvnQdtab

— The Carter Center (@CarterCenter) November 19, 2023
"

Is this what a soft landing looks like, or are we simply going from boom into the hard bounce of a recession?"

asks

Joe Weisenthal at

Bloomberg

. 

Beautiful:
The triumph of neoliberal trade policy, Hanukkah edition. pic.twitter.com/6e2vdbUU1U

— Richard Morrison (@RichardMorrison) November 19, 2023
I feel like a lot of people talk about Capitalism the way previous generations used to talk about The Devil pic.twitter.com/JzDkAt5zTr

— Armand Domalewski (@ArmandDoma) November 19, 2023
The post My Own Personal Evita appeared first on Reason.com.